Spin a Tale of Autumn with Our Executive Chef's Dinner Course Extraordinaire at DAICHINO RESTAURANT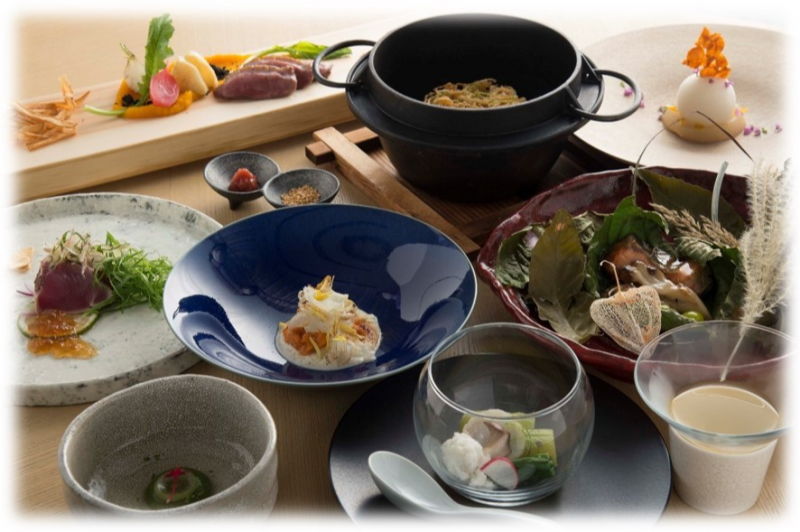 Daichino Restaurant's 'dashi' stock lies at the foundation of the rich flavors of autumn as the story unfolds one dish at a time. A microcosm of autumn spreads out on your plate, portraying a profound taste of the season. Fill your imagination and stimulate all senses as you savor your meal.(10,000 yen tax inlusive)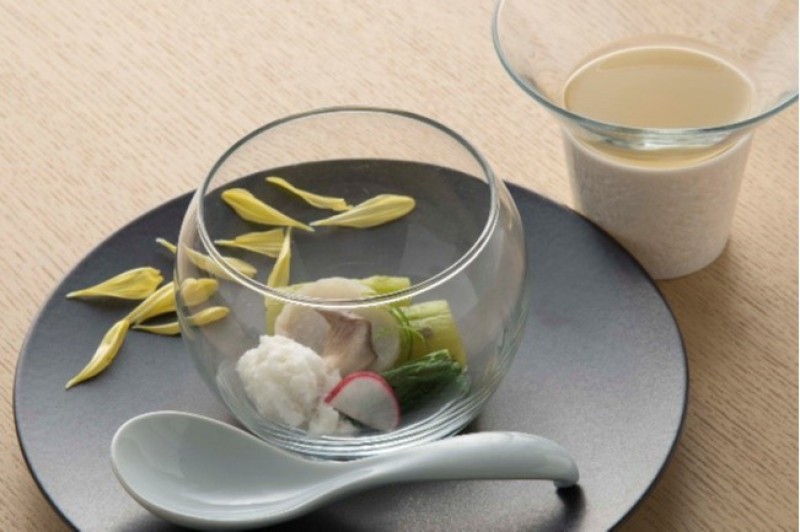 [Origin]
Specialty Blend Stock - Autumn Moon Viewing - Scent of Green Yuzu Citrus
Our golden 'dashi' stock, the origin of DAICHINO RESTAURANT, is presented in a glass bowl for your viewing pleasure. Inside the bowl is the autumn night sky with a taro moon, green yuzu pampas grass, and turnip clouds. First take a sip of the stock, then pour it into the bowl for a savory autumn broth.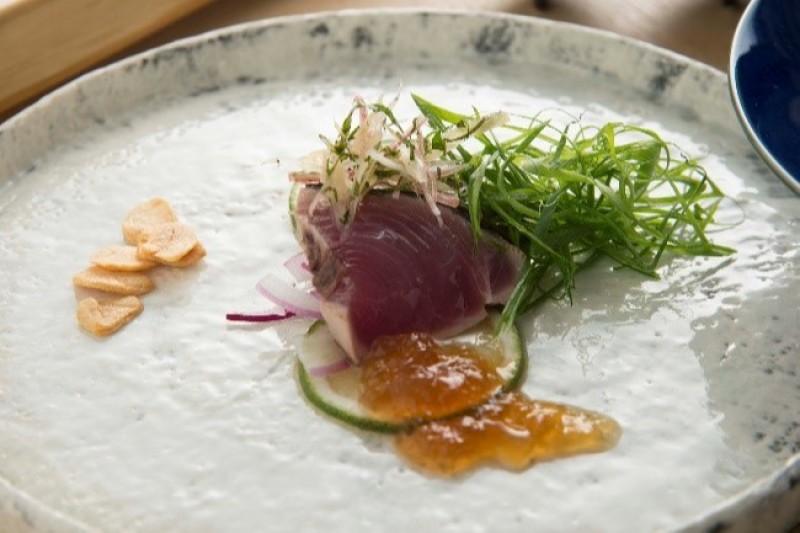 [Beginning]
Bounty of the Sea - Straw Smoked Bonito on Kabosu Citrus
The course begins with the source of life, the ocean. Buttery seasonal bonito is fragrantly smoked with straw, served harmoniously with refreshing kabosu citrus, Kujo green onion, perilla, and myoga ginger, and enriched with Tosa vinegar gelée and garlic chips.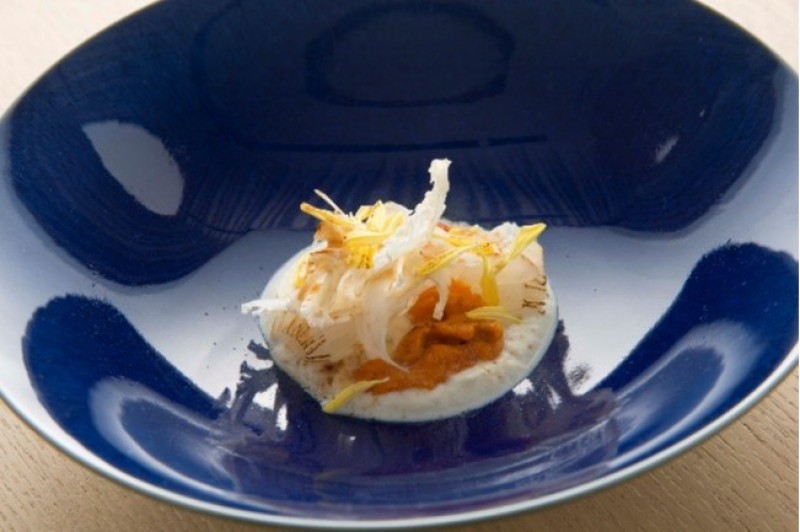 [Encounter]
Lightly Seared Cuttlefish and Sea Urchin, Rendezvous with Cauliflower Scented with Perilla Buds
When seared cuttlefish and sea urchin meet cauliflower grown in soil, it is a delicious encounter of sea and land. The layers of sweetness and umami of the ingredients are enhanced by the salty taste of soy sauce powder and minty aroma of perilla.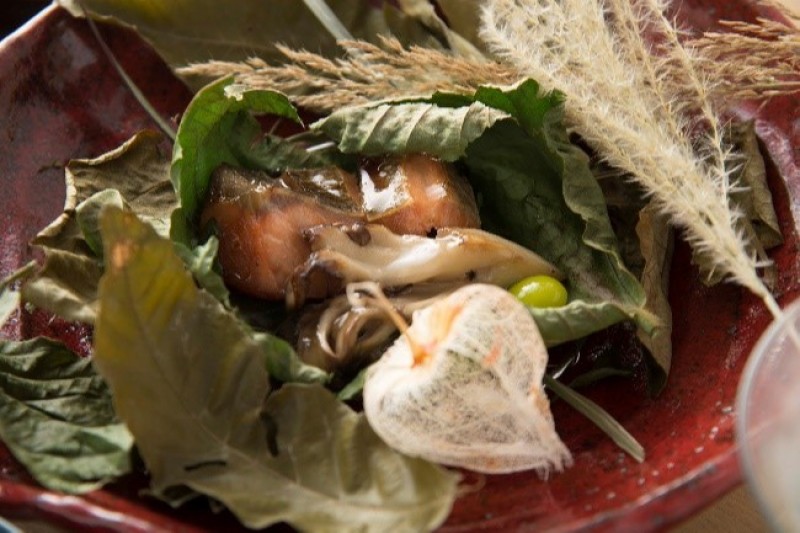 [Transition]
Hokkaido Ginsei Salmon with Fallen Leaves of Herbs
Here is a dish for all five senses perfect for the changing seasons. Rare and valuable Hidaka brand Ginsei salmon is grilled Yuan-style with soy sauce and citrus, then wrapped with herbs in arrowroot leaf—one of the seven herbs of autumn—and heated again to infuse the rich herbal aromas into the salmon. Fallen leaves collected in Green Springs have been prepared for the presentation. Feel autumn wear on as you hear the rustling along with the sight and textures on your plate.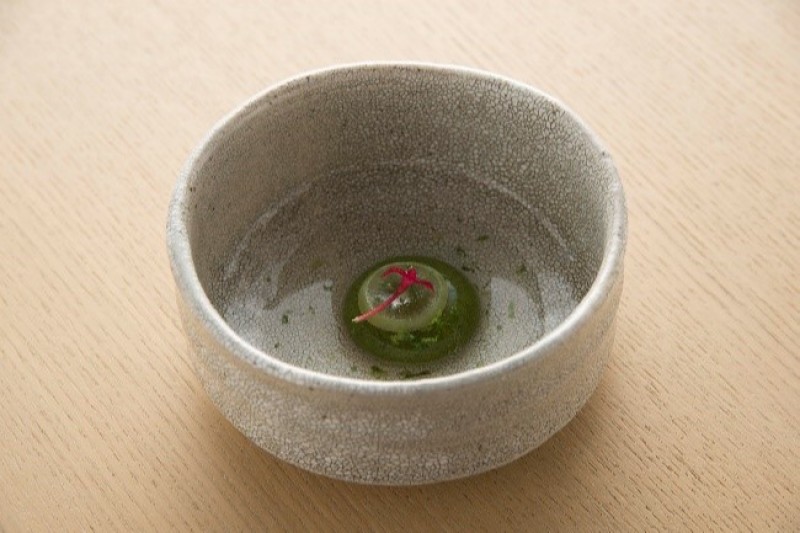 [Refreshment]
Kyoto Ippodo Matcha Green Tea and Muscat Grape Dewdrop
Time for a break from the course—enjoy the dewdrop in one bite, in the same way you would drink matcha green tea from the bowl. Green yuzu citrus tickles your sense of smell, after which the refreshing sweetness of lime and muscat grape spreads in your mouth. The subtle bitterness of weak tea wrapped in jelly lingers in your mouth.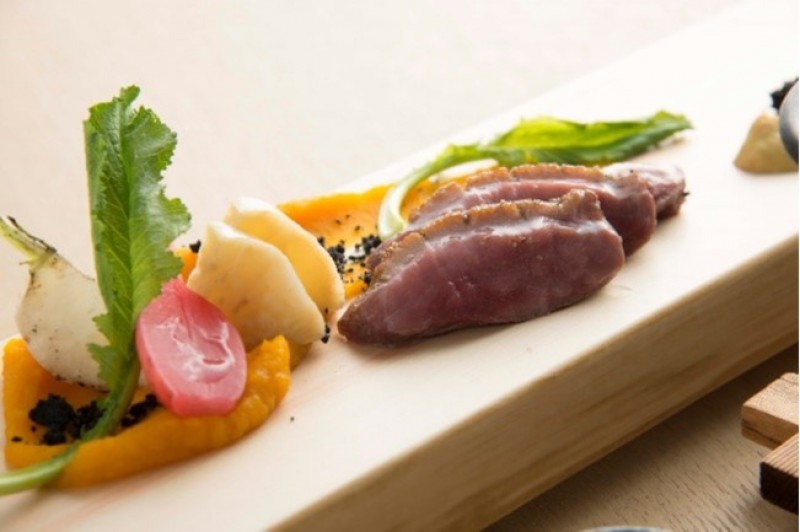 [Earth]
Sansho Pepper Bushu Duck with Kabocha Squash Paste and Fig Daitokuji Natto Sauce
Our main dish expresses the earth. Bushu duck is generously sprinkled with sansho pepper and roasted to enhance the aroma and umami. The kabocha squash paste underneath and the soil-like crumble add sweetness and texture. The sauce of sweet and tart fig and balsamic vinegar, which goes well with duck, enriched with Daitokuji natto soybeans is the key to making this dish superb.

*Option: Chargrilled Nasu Goto Beef with the Bounties of the Land (available for an additional 3,000 yen)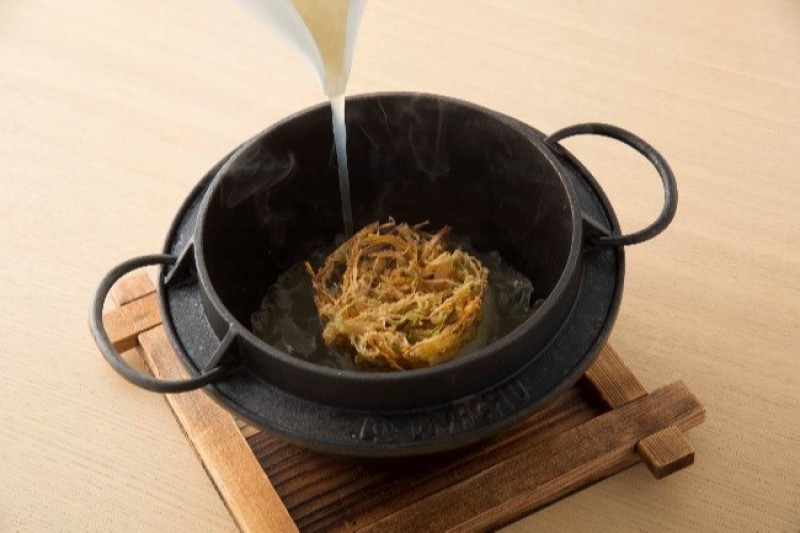 [Reflection]
Grilled SORANO Rice Ball and Dried Scallop Tempura with Bonito Glaze
Here is a heartfelt dish brimming with the chef's thoughts and ideas. SORANO rice grown and harvested with care starting with soil preparation in Nasu is formed into rice balls, grilled, and served with beautifully deep-fried kakiage tempura. Drizzle 'dashi' stock glaze enhanced with dried scallop over the rice and share the dish at your table. As desired, enjoy it with homemade umeboshi (pickled apricot) paste or white sesame seeds.

Your unique dining experience at Daichino Restaurant starts and ends with 'dashi' stock.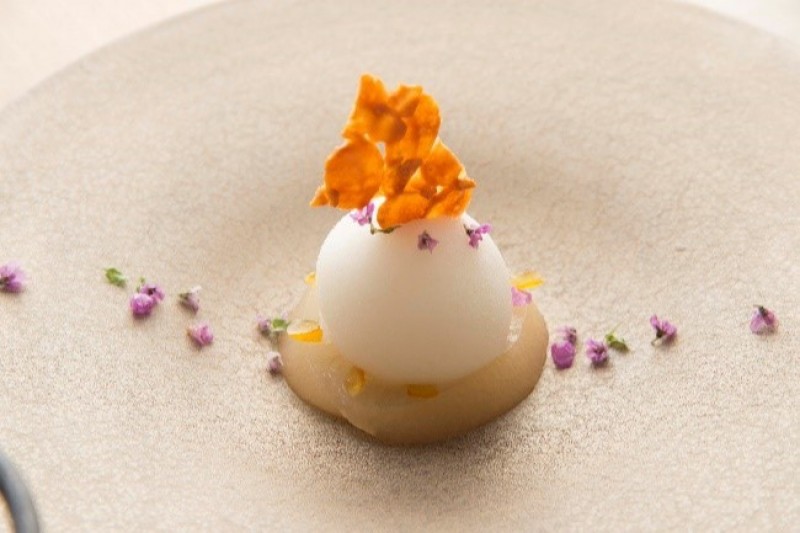 [Premonition]
Japanese Pear Sherbet and Compote scented with Lemongrass and garnished with Soy Florentin
Refresh your palate at the end of the course. The delicate taste of Japanese pear is present in this mild sherbet. Our hotel's original spumante and lemongrass add extra freshness to the pear compote. The dessert is topped with florentin of almond combined with our original soy seasoning. You may find the salty sweetness take you on a trip down memory lane and the yuzu citrus hint at the upcoming winter.
See our Autumn À la Carte and Lunch menu