At the foot of Mt. Fuji is where we found delicious 100% natural water. We cook and furnish our guest rooms and spa with one of Japan's best ultra-soft water.
"Fujinoyusui"
After trying many kinds of natural water in our search for the most delicious one, we found "Fujinoyusui", ultra-soft natural mineral water with a hardness of 24 mg/L. It is 100% natural water sampled at an altitude of approximately 950 meters and pumped from a deep well reaching beyond 200 meters underground in an area in the Fuji-Hakone-Izu National Park where the Mt. Fuji environment and landscape are most strictly preserved.
Mt. Fuji, which has heavy rainfall, has no rivers, so the rain and melted snow seep into layers of hard basalt and are refined over many years, resulting in good-tasting water full of natural minerals.

This natural, delicious Fujinoyusui will be used at the SORANO HOTEL for cooking (excluding pretreatment of ingredients) and furnishing in guest rooms and the SORANO SPA.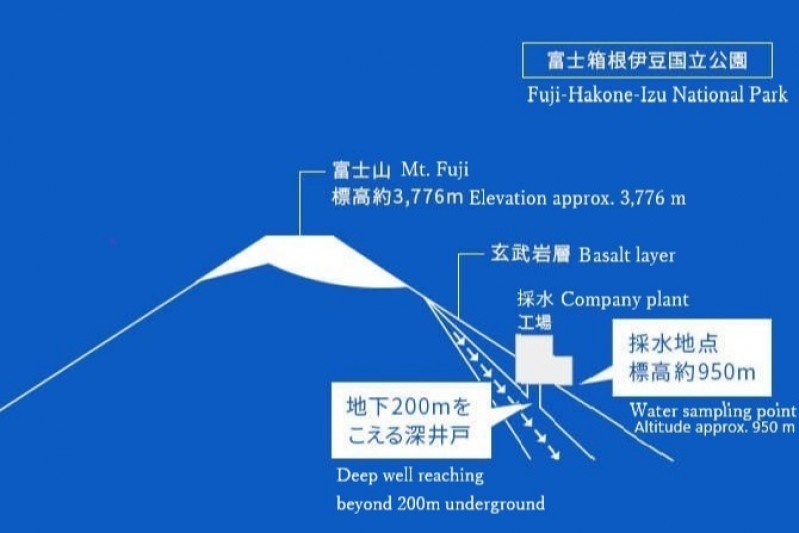 About the quality:
Fujinoyusui is 100% natural mineral water completely free of artificial minerals, preservatives, and other additives. The Fujinoyusui manufacturing plant is located at the northern foot of Mt. Fuji at an altitude of about 950 meters. All processes including sampling, filtration, heat sterilization, packaging, and shipping are performed under strict quality control at the plant. The factory has obtained an ISO 22000 certification for food safety management and an FSSC 22000 international standard certification for food safety.

Using ultra-soft water to make delicious "dashi"
SORANO HOTEL dining offers crossover food created by a combination of Japanese cuisine with essences of various dishes. The base of Japanese food is "dashi" stock. After trying many types of water for making excellent stock, our chefs selected this Fujinoyusui.
Delicious, safe, and reliable Fujinoyusui is provided in new environmentally friendly containers.
In our guest rooms, this delicious Fujinoyusui will be provided in special large containers reflecting our choice not to use plastic bottled water.