SORANO QUALITY②-Bathroom amenities – Setting an eco-first hotel standard!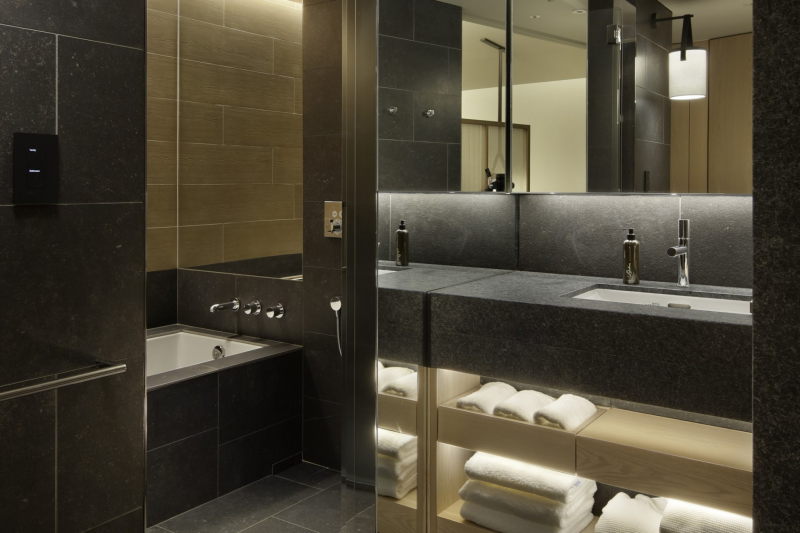 Hotels discard large amounts of disposable waste every day. The more mindful we are of Well-being – a wholesome experience to invigorate the mind and body – and Sustainability – being friendly to the environment and society – the stronger we feel about reducing disposable items as much as possible. We have decided to limit stock of one-time use items such as toothbrushes and instead focus on providing hand selected amenities. In addition to high quality linens, bathrobes, hair dryers, and other basic items, we offer carefully selected, high-quality body and hair shampoo and conditioner provided in refillable bottles instead of individual packaging. We kindly ask you to bring your favorite items that you are accustomed to using at home.
1. Japan's first hotel to furnish all guest rooms with fair-trade certified cotton towels made in Japan
Hotman is a towel manufacturer out of Tokyo. SORANO HOTEL will furnish all guest rooms with Hotman's highly water absorbent "One-second towels" made with fair-trade certified cotton. "One-second towels" are made using Hotman's original manufacturing method that maximizes the potential of cotton without using chemicals such as softeners and water-absorbing agents used in general towel production. These high-quality towels are gentle on your hair and skin, safe and reliable, and contribute to a sustainable society.
*Hotman is a long-established towel manufacturer with a history of over 150 years in Ome, Tokyo. In support of fair-trade activities aimed at improving the lives and self-dependence of developing countries, the company manufactures and sells Japan-made fair-trade
certified
cotton towels, which were the first to become internationally fair-trade certified in Japan since 2014.
Hotman conducts all production processes in-house and tightly manages raw material purchases, enabling it to meet strict international fair-trade standards. Hotman's fair-trade-certified products are made with high-quality fair-trade cotton grown in the Republic of Senegal. Senegal cotton is beautiful, glossy white cotton that is handpicked to minimize damage to the fiber and strong enough for use in towel products.
2. Hair and body shampoo & conditioner certified by EU's highest organic standards
Hair and body shampoo are high quality bathroom amenities that are carefully selected by the hotel and friendly to the environment. Our rooms will be appointed with Arrivée hair and body shampoo and conditioner by LEDERHAAS, a NATRUE*-certified organic cosmetics manufacturer based in Austria, which has the most organic farmland among European countries where the level of environmental awareness is high.
The products will be provided in 300 ml bottles instead of individual packaging. With full support by the Austrian Embassy, this will be the first time the products will be used in Japan.

*NATRUE Certification: Over 95% of the natural ingredients used are from organic certified producers. We use products of the highest rank in the three-level certification.
3. "Can you bring your toothbrush for the night?"
An important message from SORANO HOTEL, this request for your kind cooperation will be made politely and repeatedly. We believe that if all our guests bring their toothbrushes that they are accustomed to using, we can reduce the amount of disposable one-time-use items. A single toothbrush makes a great difference when kindness for the earth is in your heart! Your understanding and help are greatly appreciated.

Toothbrushes friendly for the environment and your body (for sale)
If you do not bring a toothbrush, the hotel will provide non-disposable quality items for a fee.
Just Smile's bamboo toothbrush, which promotes activities to reduce educational disparities in South America, is available for purchase. The handle is made of organic moso bamboo, and the brush is made of plant-derived fiber material free of BPA. For every toothbrush purchased, a pencil will be donated to children in South America.