Entire courses from dining to accommodations by Michelin-starred chefs Japanese-style Auberge TOKITO opening on April 6 in Tachikawa, Tokyo ~ Bookings start at 3:00 p.m. on Tuesday, February 28 ~
 Following the opening of the SORANO HOTEL in June 2020, Tachihi Hospitality Management Co., Ltd. (Tachikawa, Tokyo; Masamichi Murayama, President and Representative Director) is set to open Auberge TOKITO, a property consisting of a dining room, tea room, and guest rooms, in the Tachikawa area on April 6 (Thursday), 2023.
 Bookings start at 3:00 p.m. on February 28 (Tuesday) in advance of the grand opening online at our official website (
www.aubergetokito.com/en/
) or by phone.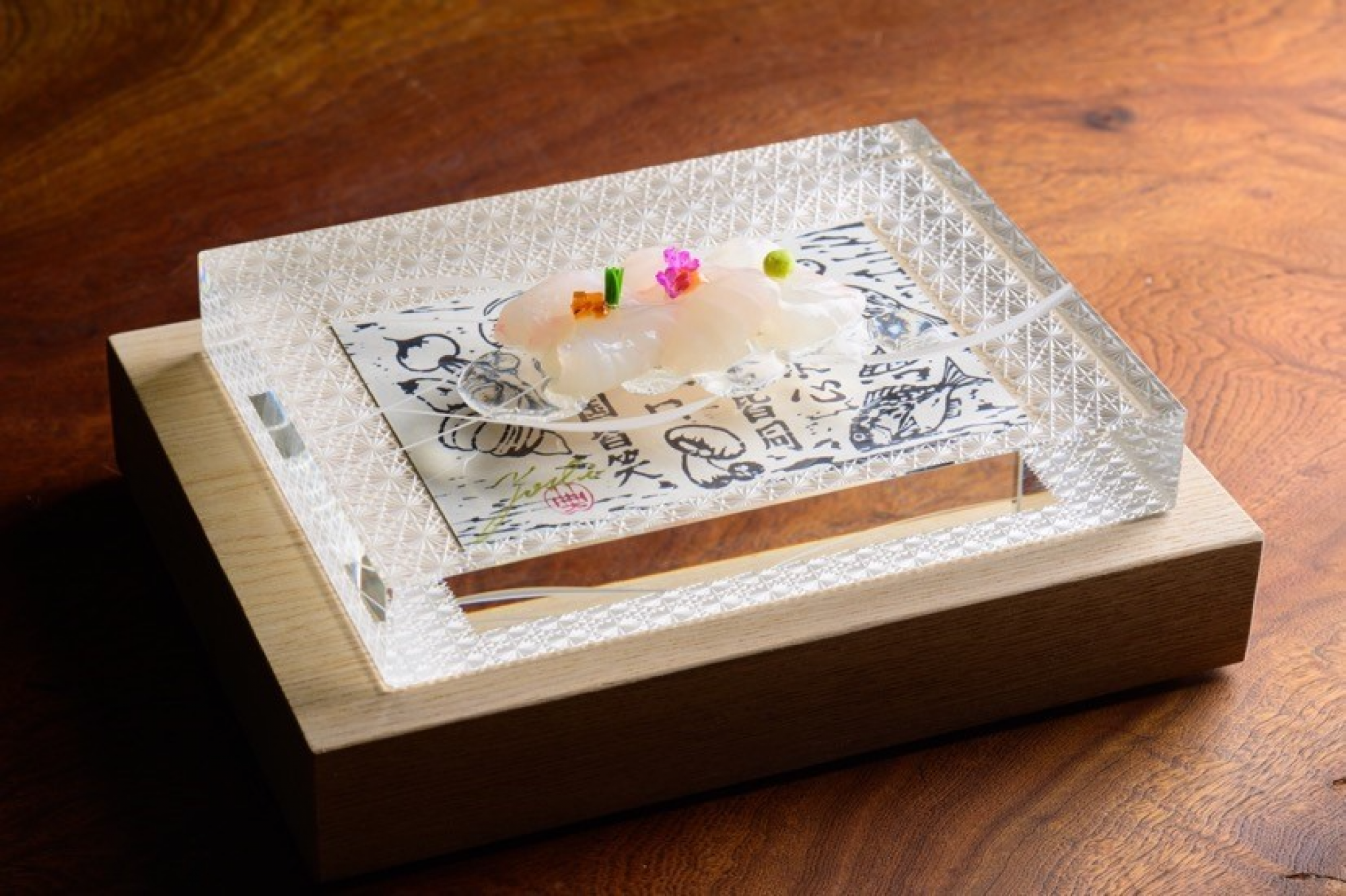 Every Moment –Toki– from Meals to Lodging brought to you by a Team of Chefs
 Auberge TOKITO, a Japanese-style auberge, is newly opening on April 6 (Thursday), 2023 in the nature-rich Tama area a one-minute walk from the JR Nambu Line's Nishi-Kunitachi station, a 40-minute* train ride from central Tokyo.

 The shokubo dining room, sabo tea room, and shukubo guest room limited to four parties per day constitute the auberge where chefs offer not only a dining experience but a full course from the guests' arrival to departure complete with all the services related to overnight stays, attentively offering hospitality for every moment, or toki, of the experience.

 Yoshinori Ishii is the executive chef-producer. After building his career in Japan and overseas, he served as the executive chef of the London kaiseki UMU, the first Japanese restaurant in Europe to receive two Michelin stars (2015), which he maintained for five years.

 Posted as the general manager and grand chef is Kenji Okawara who received high acclaim for his cuisine provided to the heads of states at the Hokkaido Toyako Summit (2008). He was invited to become the head chef at Ito, a kaiseki restaurant in Kyoto, which he led to one Michelin star just half a year after opening.

 Furthermore, Hiroki Hiyama, who trained in Kyoto and then in Italy at the three-Michelin star Ristorante Da Vittorio, is appointed as the head chef, joined by chefs who bring to the team abounding experiences in Japan and abroad.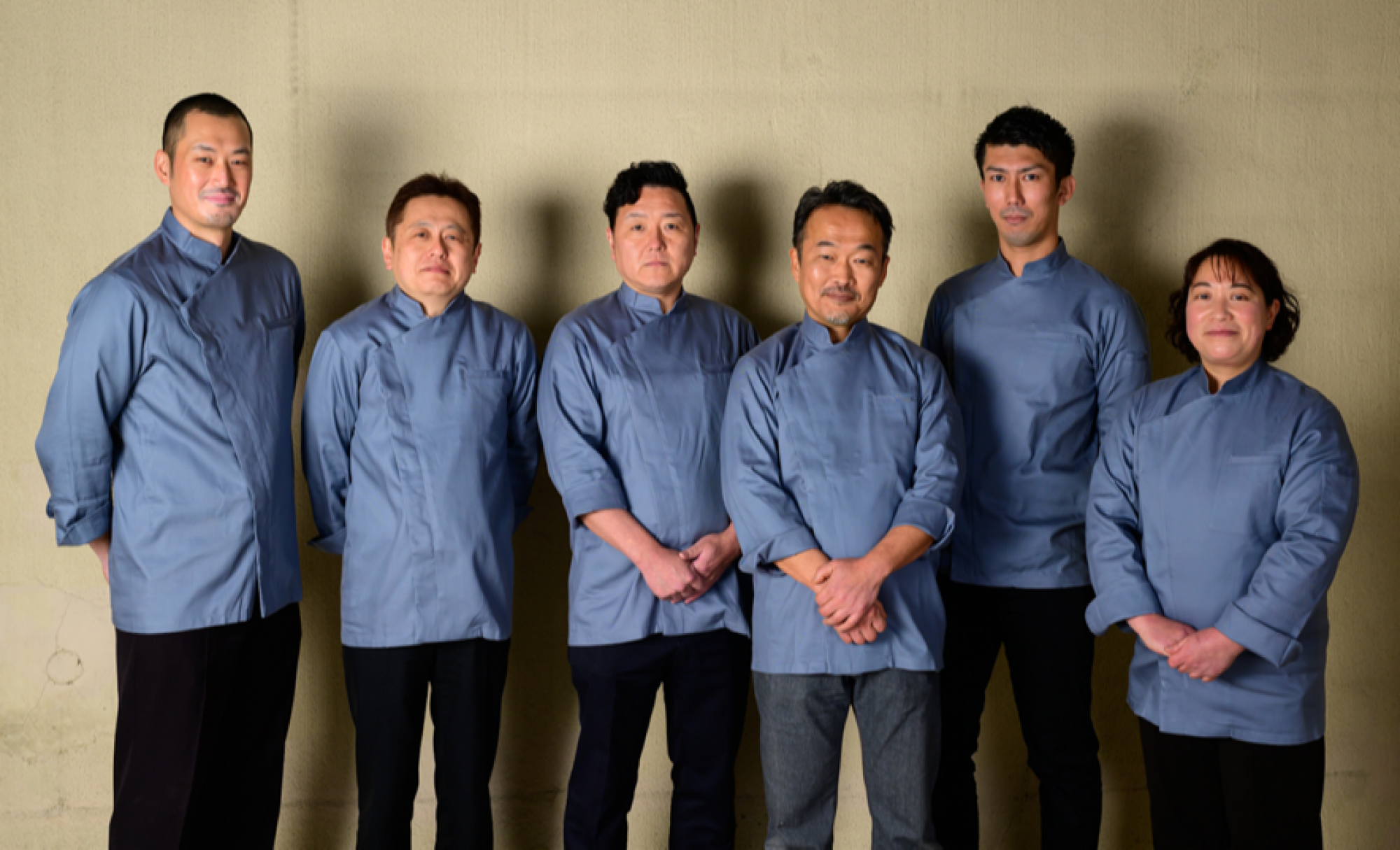 A New Japanese Cuisine Experience at a Travel Destination for Food Seekers
 Specialties of local producers rediscovered by our executive chef who has spent many years overseas and who focuses on seafoods and agricultural products particular to the region are served at the shokubo dining room, the core facility at Auberge TOKITO. Supplies also include products that would have been discarded for being substandard or difficult to use. To help deal with the situation observed at fishing grounds across Japan, our chef creates unique dishes with recipes calling for unused fish matured to perfection.

 Our course menu featuring the chef's special selections consists of around 12 items. Dashi stock – the essence of Japanese cuisine – is extracted from bonito and kombu kelp along with vegetables and wild game to bring out a deeper savory flavor. Our chef, whose aesthetic sense and devotion as well to pottery and printmaking, brings you new visual and emotive discoveries, as exemplified by one of his creations in which tuna flakes are likened to sawdust.

 A unique taste of the backgrounds of our chefs who built their careers in the U.K., Italy, France, and various areas of Japan are showcased in our cuisine, with offerings of pasta handmade by our chef who trained in Italy and Tokito-style noodles, which can be enjoyed in our Japanese courses.

 As our shokubo restaurant can be used without a stay at our auberge, your time can be shared with all kinds of people for anniversaries and business occasions as well.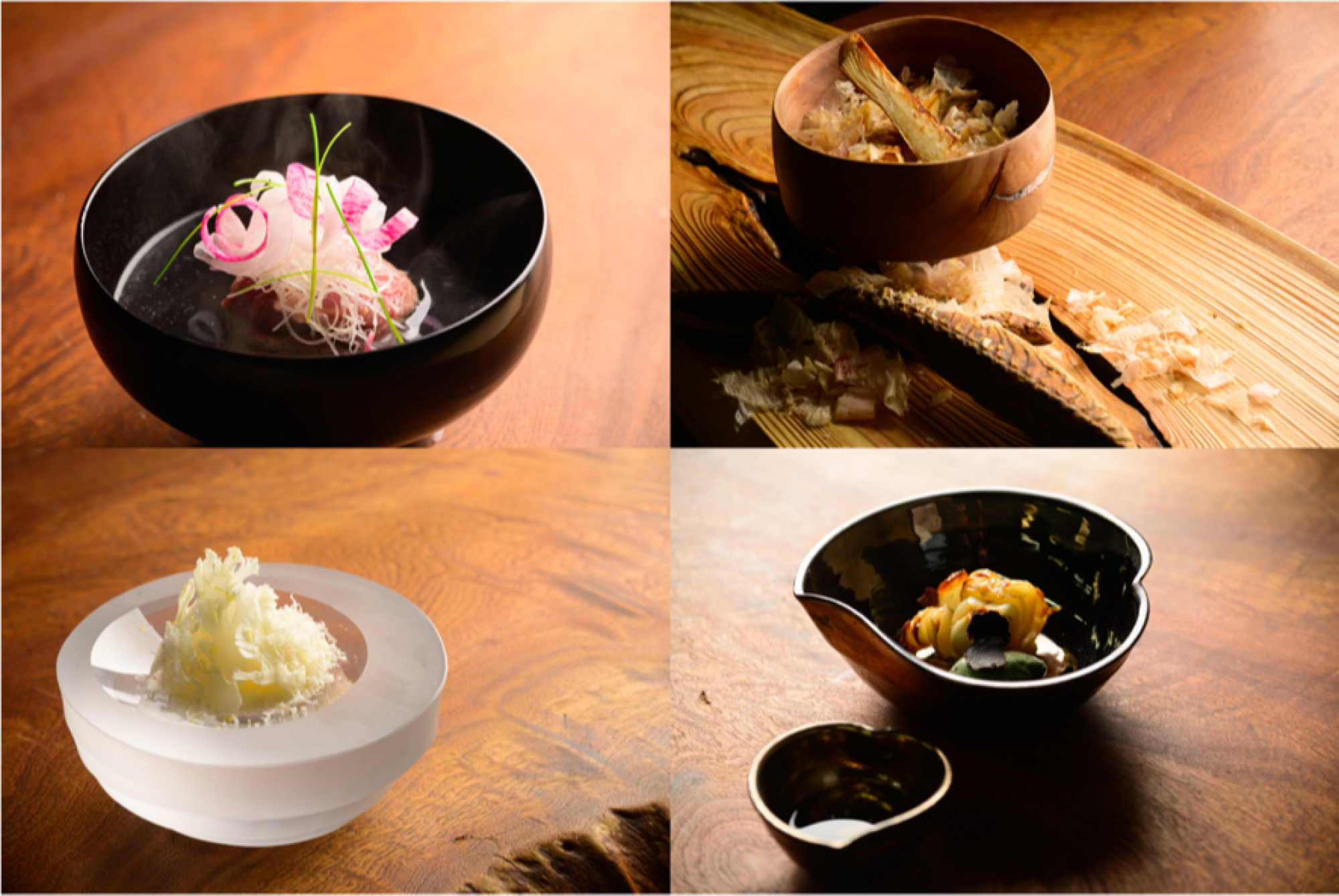 The sabo tea room nestled in our garden offers afternoon tea in the daytime and transforms into a bar in the evening where tea, alcohol, and food accompany you at every moment. To make your time with us special, our four shukubo guest rooms are each 106 square meters large. In addition to privately drilled hot springs, all rooms are furnished with kakenagashi free-flowing open-air baths. As an added bonus for staying guests, we offer priority seating for our counter seats at the shokubo dining room.
[How to Book]
Bookings start at 3:00 p.m. on February 28 (Tuesday) at our official website (www.aubergetokito.com/en/) or by phone +81(0)42-525-8888 (Weekdays from 9:00 a.m. to 5:00 p.m.).
Rates:
Grand Opening Commemoration Package 342,250 yen (tax and service charge inclusive)
※The rate above includes a one-night stay, counter seat dinner and breakfast, each for two guests.
※Reservations can be made up to 60 days in advance.

Use of our Shokubo – Dining Room – only: Hall seats 31,625 yen per guest (tax and service charge inclusive)

Shokubo – Dining Room – Hours:
< Lunch > From 12:00 p.m. and 1:00 p.m.  
< Dinner > From 6:00 p.m. and 7:30 p.m.
Access:
Approximately 40 minutes by JR Chuo Special Rapid and the Nambu Line from Shinjuku Station to Nishi-Kunitachi Station

■Auberge
Said to have originated in France, an auberge is a restaurant equipped with a lodging facility. Unlike hotels, which mainly provide lodging, auberges are often located in the suburbs and rural areas and generally consist of restaurants offering delectable cuisines.

[Auberge TOKITO Facility Overview]
| | |
| --- | --- |
| Name: | Auberge TOKITO |
| Address: | 1-24-26 Nishiki-cho, Tachikawa, Tokyo |
Phone number: +81(0)42-525-8888
Scheduled opening date: April 6 (Thursday), 2023
Facility composition:
■ Shokubo – Dining Room
Seats: 10 counter seats, 22 hall seats, 3 private rooms (4 seats each), 1 outbuilding (3-span banquet hall; maximum 20 guests)
Hours:
Hall < Lunch > From 12:00 p.m. and 1:00 p.m. < Dinner > From 6:00 p.m. and 7:30 p.m. (2 seatings each for lunch and dinner)
Counter < Dinner > From 7:00 p.m.
■ Shukubo– Guest Rooms
Number of rooms: 4 (all rooms include kakenagashi free-flowing open-air hot springs and spa treatment room; 106 m2 each)
■ Sabo– Tea Room
Seats: 16
Hours:
< Dinner Time > 11:00 a.m. to 4:30 p.m. By reservation only (2-hour time slot)
< Bar Time > 7:00 p.m. to 11:00 p.m.
| | |
| --- | --- |
| Site area: | 3,737.10 m2 |
| Gross floor area: | 1,629.19 m2 (1 floor underground) |
| Access: | 1-minute walk from the Nishi-Kunitachi Station on the JR Nambu Line |
| Management: | Tachihi Hospitality Management Co., Ltd. (100% subsidiary of Tachihi Holdings Co., Ltd.) |
| Location: | 6-1 Sakae-cho, Tachikawa, Tokyo |
President and Representative Director: Masamichi Murayama