The SORANO HOTEL's sister property, a Japanese-style auberge, opens in Tachikawa in spring of 2023. Envision a new and beautiful Japan. Enrapture the world. Auberge TOKITO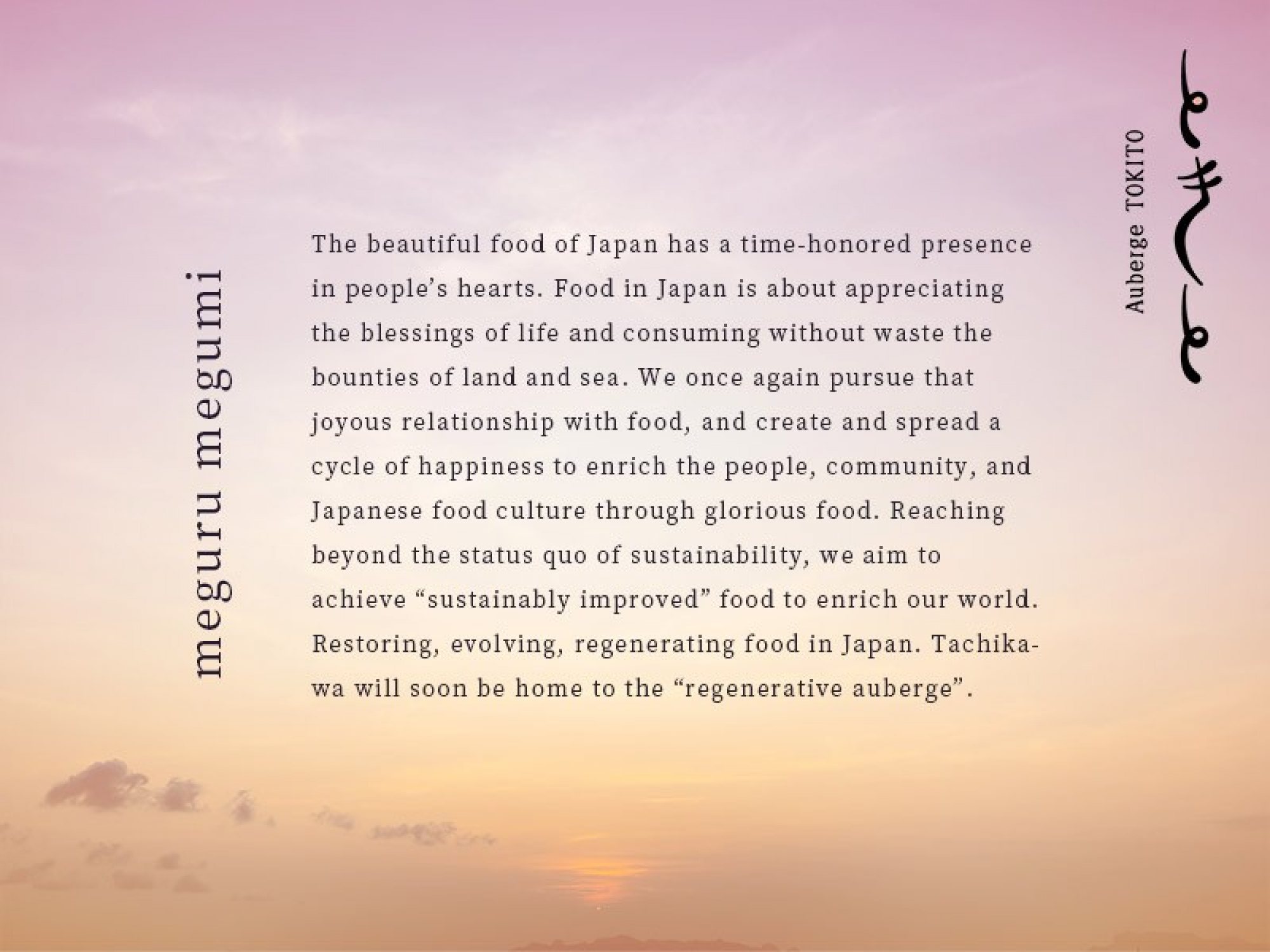 Auberge TOKITO
Tachihi Hospitality Management Co., Ltd., the SORANO HOTEL's parent company, is set to open a Japanese-style auberge – Auberge TOKITO – to the south of the JR Nishi-Kunitachi Station in spring 2023. Michelin-starred chefs will be invited to the property to create Tokyo's new gastronomical mecca here in Tachikawa where we strive to become a gourmet destination for travelers from around the world.
Property Name: Auberge TOKITO
The name TOKITO encapsulates the eternal question of what it means to fill one's time with happiness. The name also expresses the company's desire for the rich culture of Japan to ascend gracefully into the world as if it were the Japanese crested ibis, which is also called toki in Japanese. The aim is to enrich the people, community, and Japanese food culture through food based on the concept of meguru megumi – regenerative bounties. We strive to achieve the evolution of Japanese food, tea, and lodging to fill our guests' time with all kinds of happiness and become a place from where Japanese food and culture are projected into the world.
Auberge TOKITO Facilities
| | |
| --- | --- |
| | |
| Dining room:   | 10 counter seats, 22 hall seats |
| | 3 private rooms (4 seats each), 1 outbuilding (three-span banquet hall, maximum 20 seats) |
| Lodging: | 4 guest rooms with private open-air kakenagashi (hot spring water flowing continuously from the source) baths |
| | *Includes spa treatment area (all rooms 106㎡) |
| Tea room: | 16 seats *For both tea time and bar time |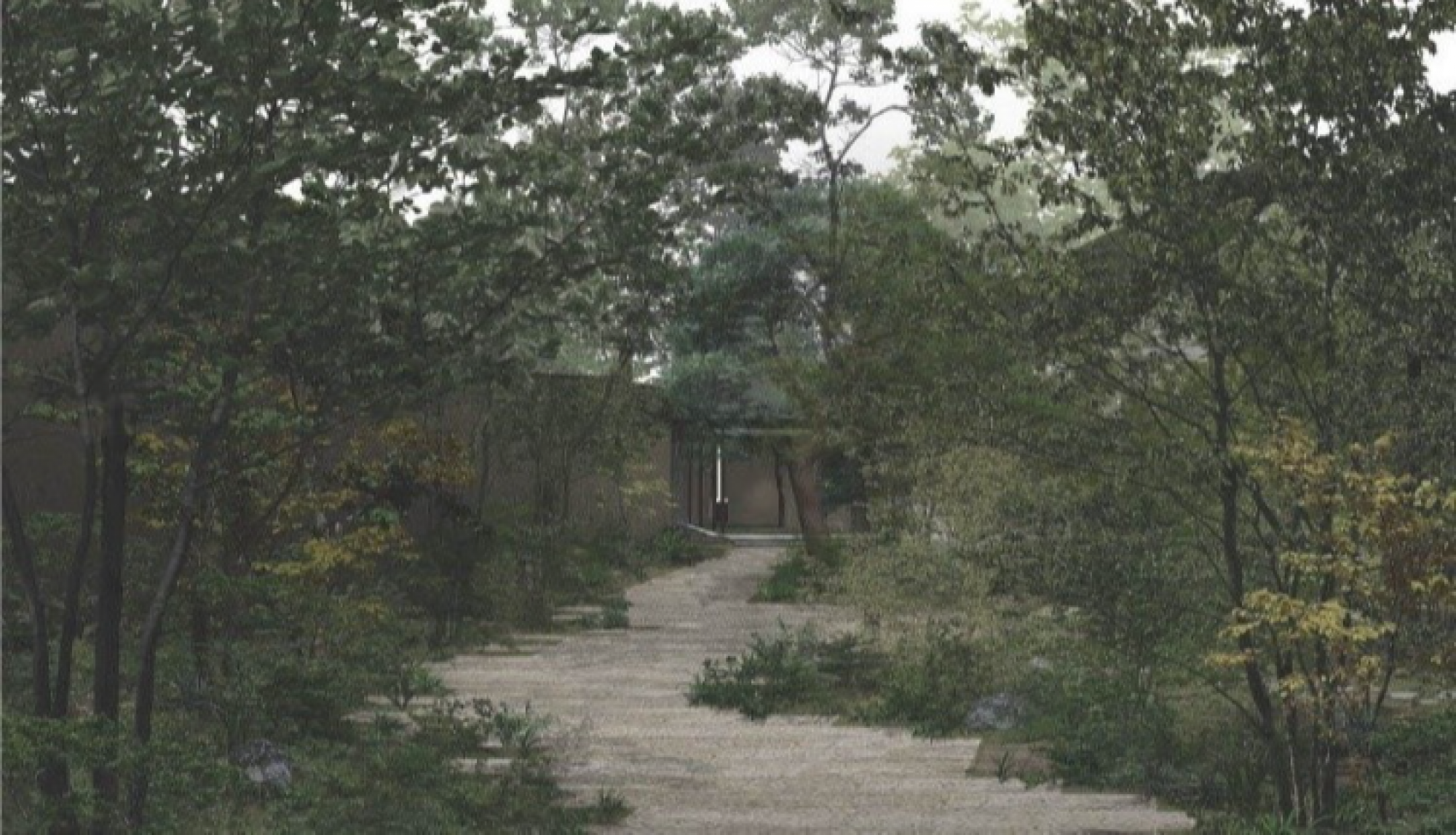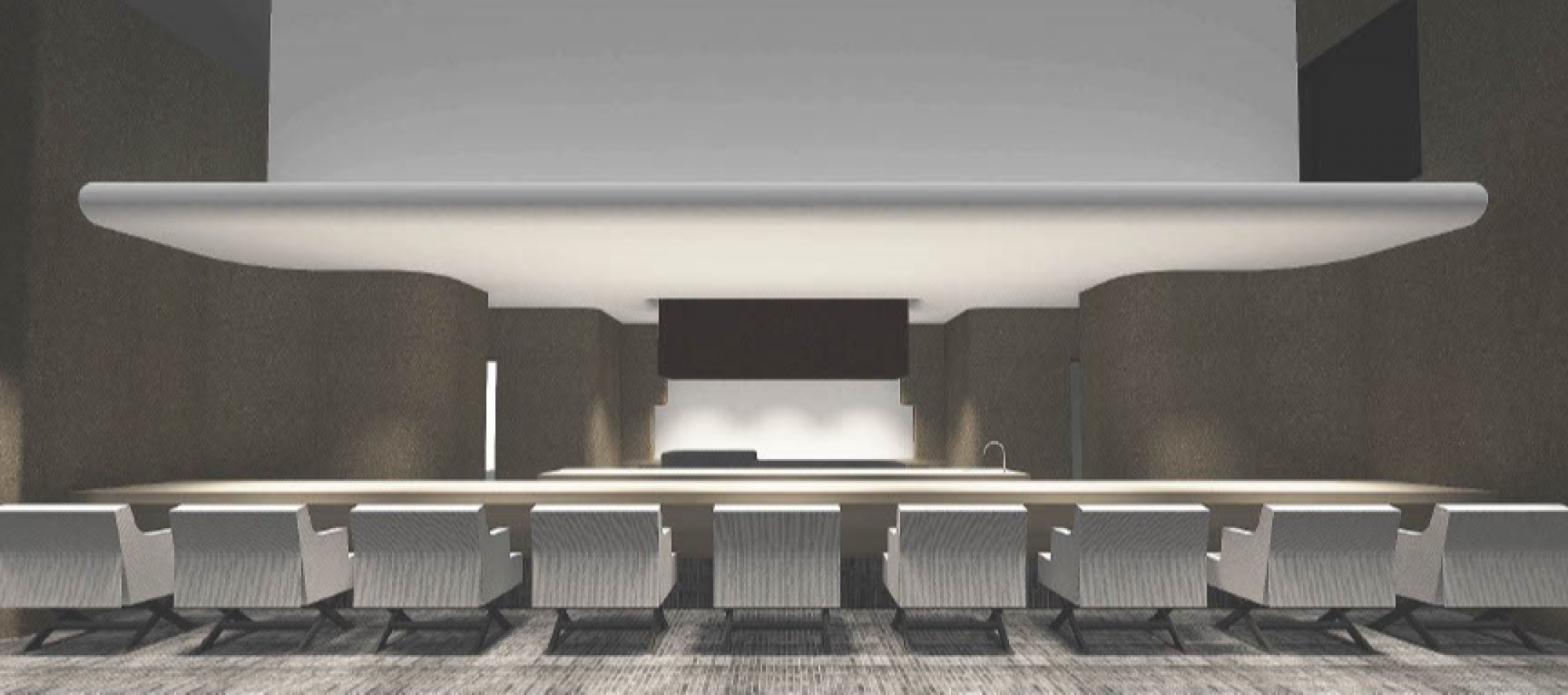 Toki, a time to encounter the true richness of food in Japan
As we aim to nurture Japanese food culture together with our producers, our chef visits the production sites in person to collect our main ingredients. Established theories and customs are set aside as we express the true richness of Japanese food by going beyond what is in season to pursue ingredients that are the most delicious at the time of encounter, at the production location, and using a particular method of preparation.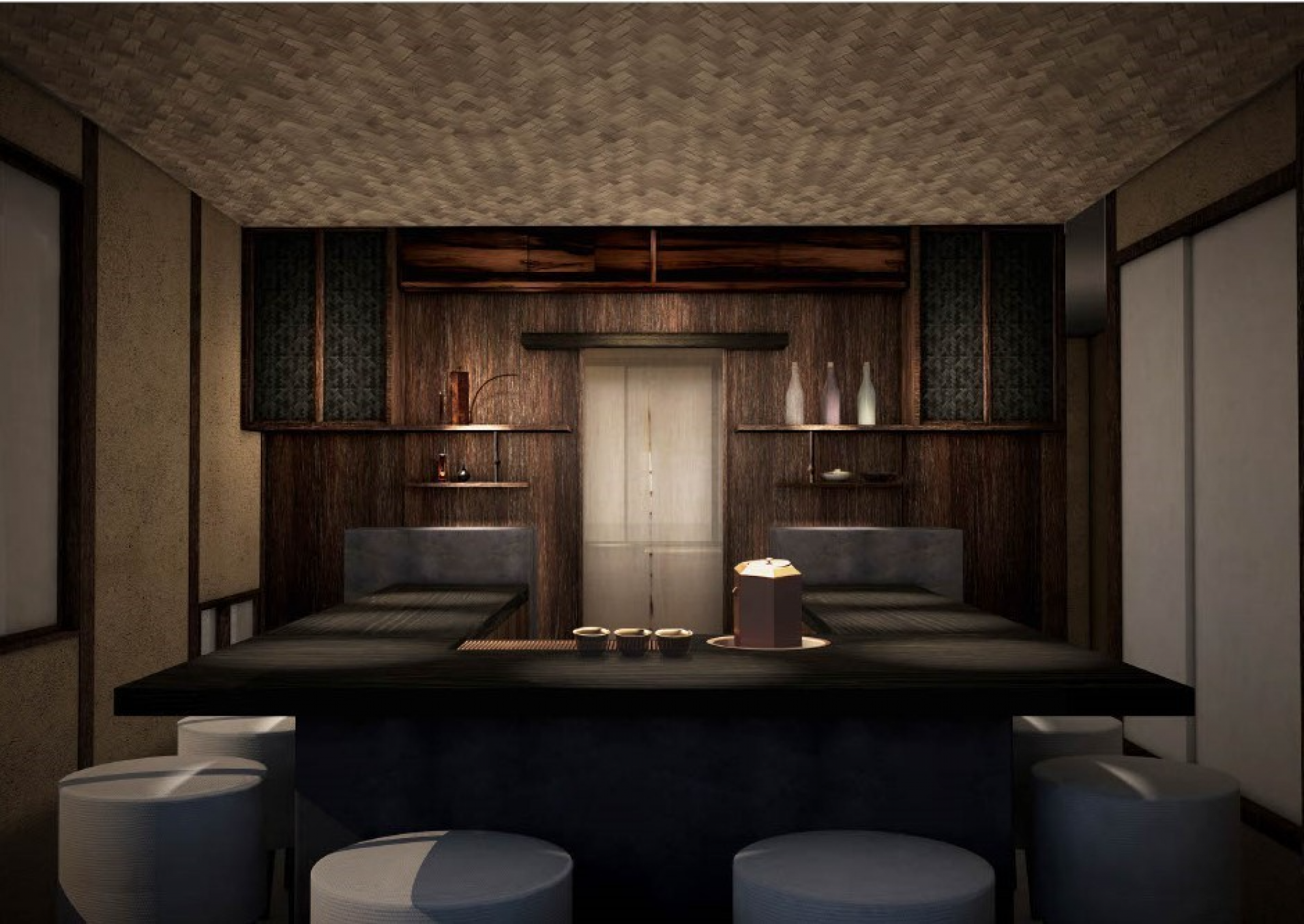 Toki, a time to respect the aesthetics of tea and enjoy its creation
Japan's tea culture evolved in a myriad of ways with the regions, customs, eras, and recipes. By interpreting tea in modern ways and developing it independently, here, tranquility and enjoyment are bred anew. Developed under the supervision of Saboe, our 16-seat tea room is also open for bar time in the evening.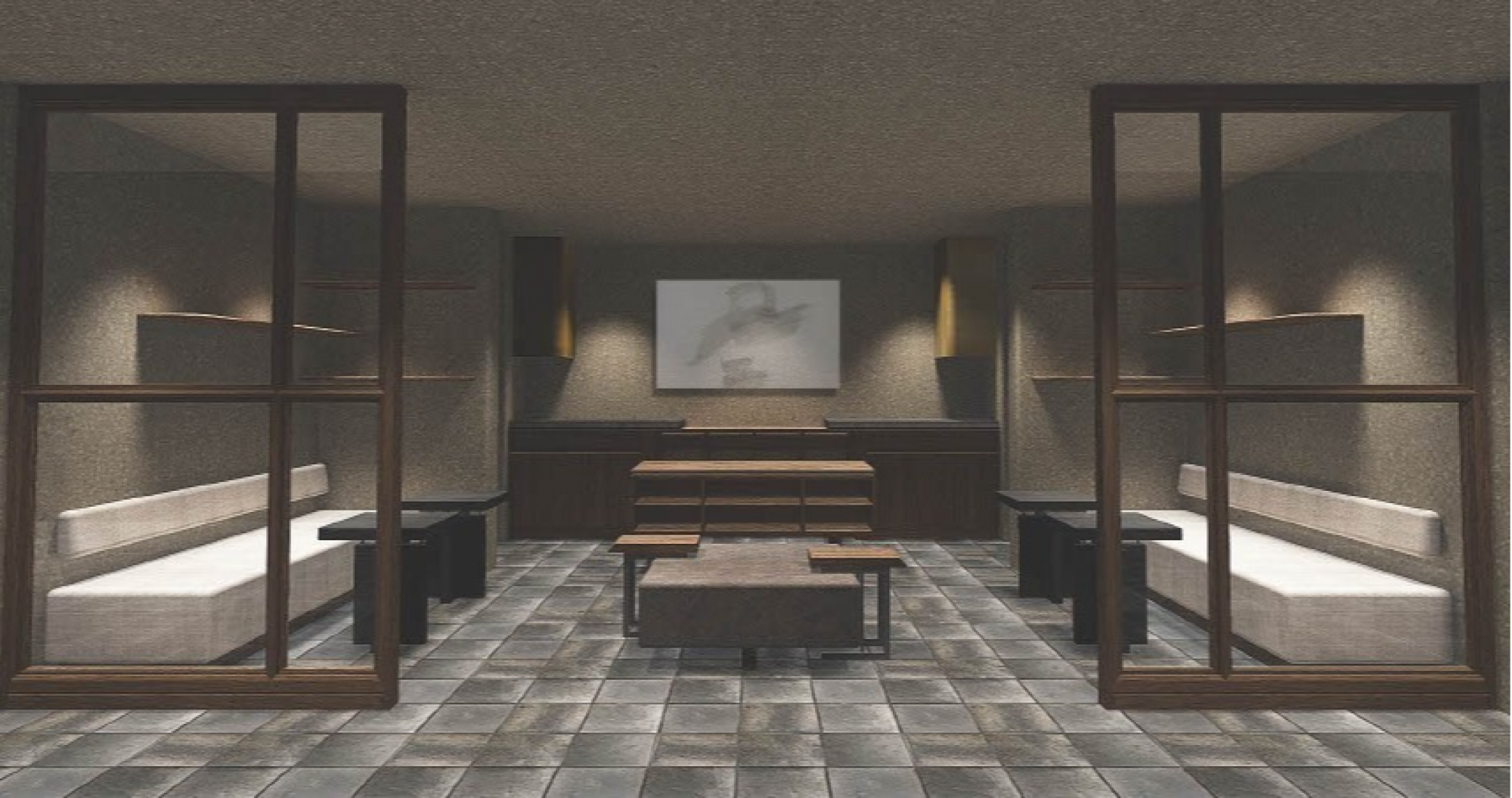 Toki, a time of grace and generosity to heal your mind and body from the core
Lodging oblivious to the bustle of the city materializes into four rooms, each a generous 100 ㎡ and each uniquely furnished. Our rooms are appointed with private open-air baths with hot spring water flowing constantly from the source 1,300 meters below ground and spa treatment areas. Seek restoration for your body and soul as you experience ultimate healing, made possible by an auberge whose services are carried out by committed chefs.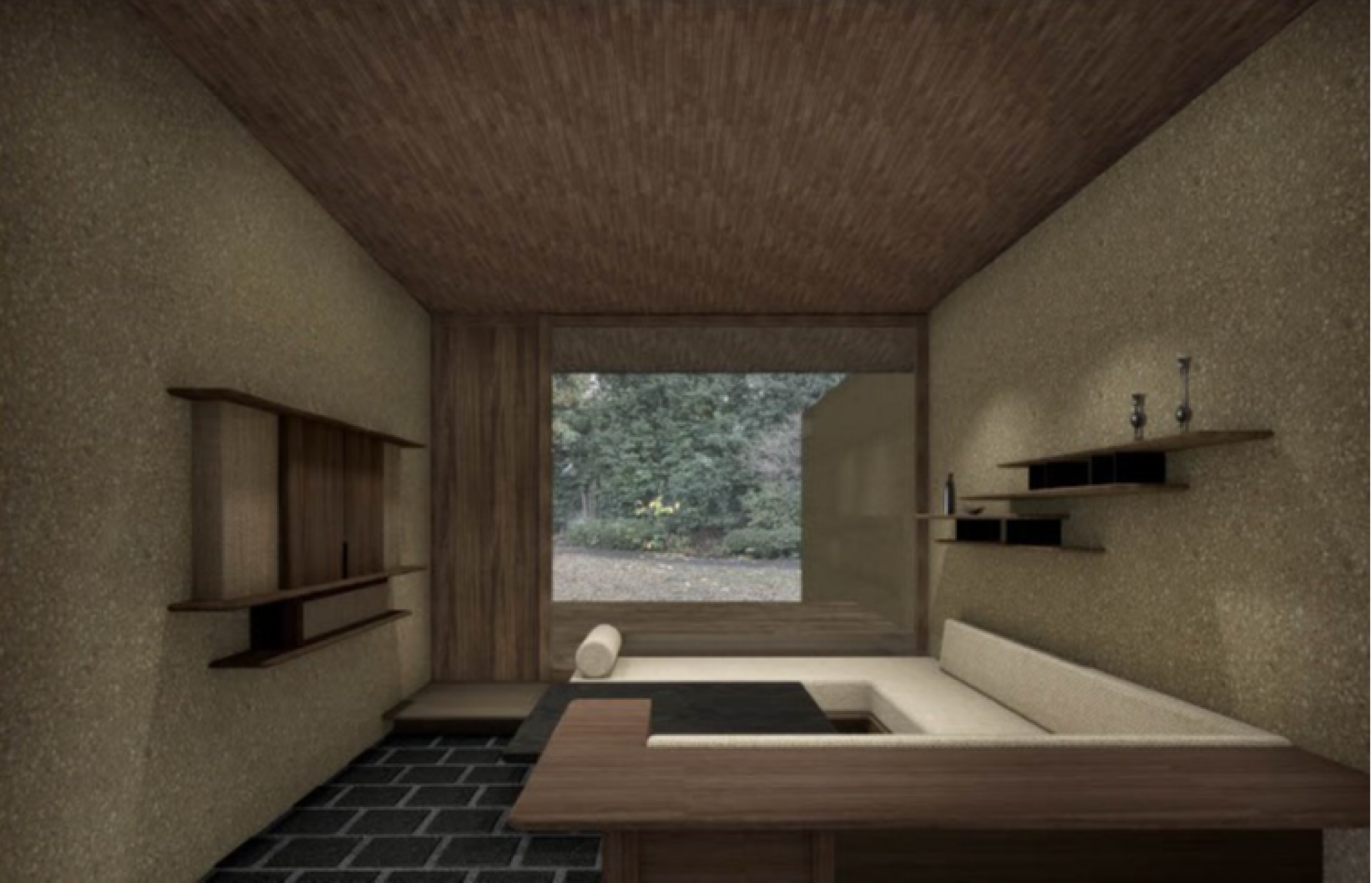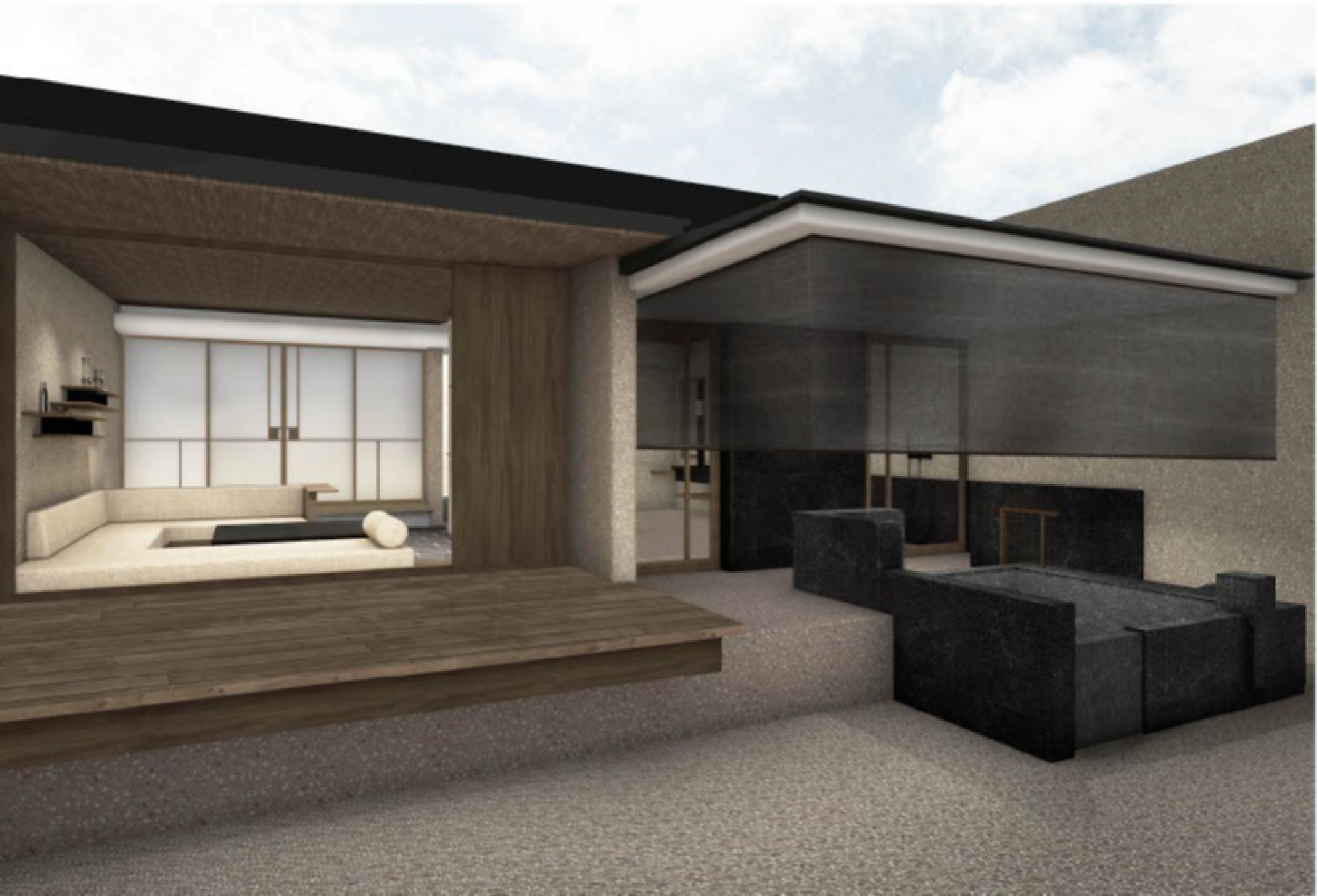 Auberge TOKITO, home to Michelin-starred chefs with world renown
Chefs with exceptional skills reinforced by techniques of Japanese tradition have come together in pursuit of continuous advancement. A creation by our chefs materializing from the ground up, our Japanese-style auberge strives to become a new dining destination representing Tokyo and triumphing on the world stage.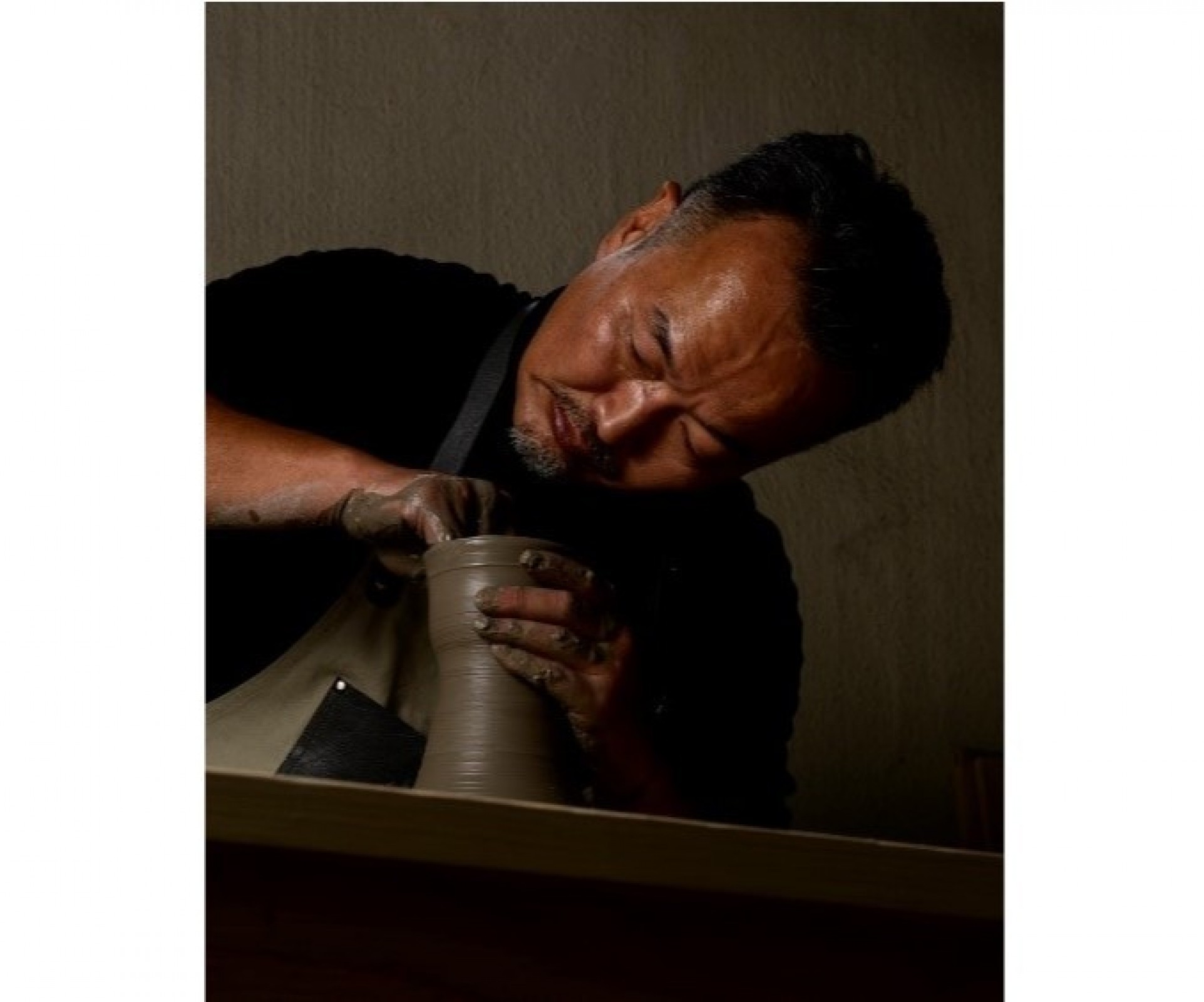 Yoshinori Ishii


Auberge TOKITO Executive Chef-Producer

Upon returning to the Japanese restaurant industry for the first time in 20 years, the venue of choice for engaging in a brand-new challenge is Tachikawa, Tokyo.
Responsible for the first Michelin two-star Japanese restaurant in Europe with kaiseki UMU (Mayfair, London). Widely-renowned in the UK as the pioneer of ikejime.
After building his career on achievements as the sous-chef at Kyoto Kitcho Arashiyama, Ishii pursued an overseas career and worked as a chef at the UN ambassadors' residences in Geneva (Switzerland) and New York (USA). In 2010, he was appointed as the executive chef at UMU, a kaiseki restaurant in London where he maintained one Michelin star. In 2015, he led the establishment to two Michelin stars, the first Japanese restaurant in Europe to receive the accolade, which he maintained until 2021.
In the UK, he is widely known as the pioneer of ikejime (a method of preparing fish to maintain freshness and quality), which he passionately and persistently taught people involved in the fishery and restaurant businesses. He made it possible to procure bright-eyed fish maintaining a level of freshness never before seen in the UK, contributing greatly to the industry. His uncompromising attitude reveals his motivation and commitment to providing superb ingredients.
His commitment is also present in the tableware, which Ishii creates and uses to present his dishes. At Auberge TOKITO in Tachikawa, Tokyo, his unique view of the world is expressed through his numerous handmade ceramics skillfully coordinated with his dishes.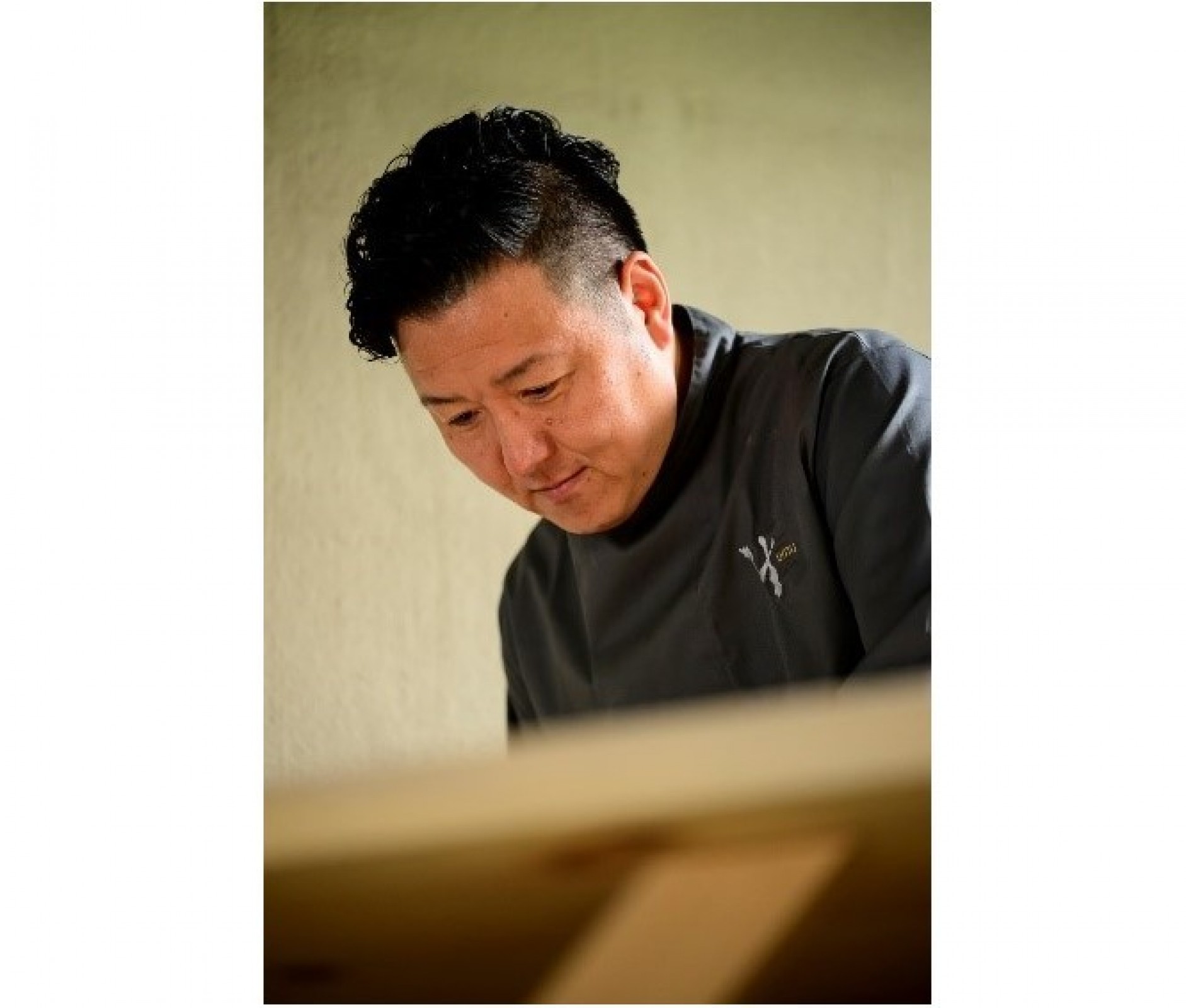 Kenji Okawara


Auberge TOKITO General Manager, Head Chef
Okawara's career started at Kyoto Kitcho Arashiyama where he thoroughly mastered not only basic cooking techniques, but also flower arrangement, tea ceremony (tea kaiseki), tableware, scrolls, and other aspects of Japanese culture that are inseparable from Japanese cuisine. In the kitchen, his natural skills, flexibility, and decision-making ability distinguished him as he was entrusted with various duties.
He handled many catering jobs and has a wide range of experience, including preparing kaiseki cuisine at the Kyoto Imperial Palace, temples, and overseas such as Italy, Ukraine, and India. His experiences taught him how to first think of ways to make impossible situations possible, and to this day, his capacity to create is a great asset.
10 years after joining, he was posted as sous-chef at the Kyoto Kitcho Toyako branch (inside the Windsor Hotel Toya) where he worked during the Hokkaido Toyako Summit held in July 2008. In 2010, he became the head chef of the Toyako restaurant, and since then was awarded two Michelin Hokkaido stars in 2012 and 2017. In 2019, seeking a new challenge, he was welcomed as the head chef at Ito, a kaiseki restaurant in Kyoto, which received one Michelin star in 2020, just half a year after opening and which maintained the stars in 2021. In August 2021, he was appointed to the pre-opening office of Auberge TOKITO. Young talents have gathered under Okawara not only for his technical skills, but also for his unique natural qualities and ability to take action.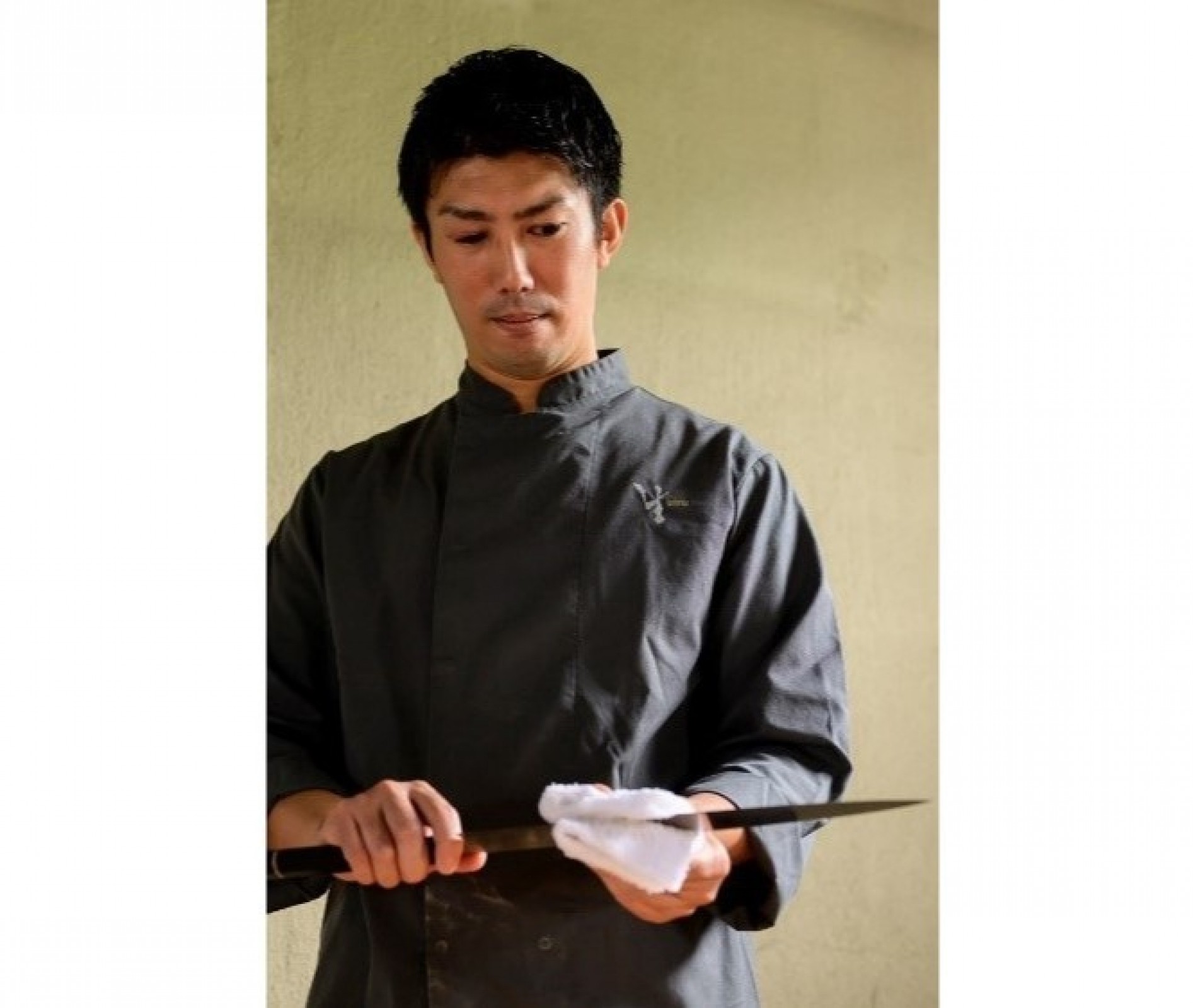 Hiroki Hiyama 


Auberge TOKITO Head Chef
While gaining four years of experience at Kyoto Kitcho, Hiyama's innate curiosity pushed him to seek opportunities for experience overseas early on in his career.
Believing that working abroad would give him a different perspective and a new way to approach Japanese food, he joined Hamasei Roma, a well-established Japanese restaurant in Rome, for almost four years, after which he took the opportunity to give Italian cuisine a try at Ristorante Da Vittorio, a three Michelin star Italian restaurant in Bergamo (approximately 40 km northeast of Milano), Italy. After a year and eight months, he moved to London and worked for two years as head chef at YEN London, a fine Japanese restaurant. For the two years before joining the Auberge TOKITO Pre-opening Office in September 2022, he served as head chef at the SORANO HOTEL Rooftop Bar, using his experience in Italy to introduce new Italian courses that have established themselves as popular menus. Pursuing goals through free and flexible creativity and teamwork, Hiyama is expected to become a young leader of the next generation.
Auberge TOKITO
Scheduled opening:
Spring 2023
Address:
1-24-26 Nishiki-cho, Tachikawa, Tokyo
Location:
One minute on foot from Nishi-Kunitachi Station on the JR Nambu Line
Facility
composition:
Dining room – 10 counter seats, 22 hall seats, 3 private rooms (4 seats each), 1 outbuilding (three-part banquet hall, up to 20)
Lodging – 4 guest rooms with private open-air gensen kakenagashi (hot spring water flowing directly and continuously from the source) baths
*Includes spa treatment area (all rooms 106 m2)
Tea room – 16 seats *For both tea time and bar time
Building:
1 floor underground; total floor area: 1,629.19㎡; site area: 3,737.10㎡
Design:
Basic Design: Guild Design Architects Co., Ltd.
Final Design: Sumitomo Forestry Co., Ltd.
Construction:
Sumitomo Forestry Co., Ltd.
Interior design:
Simplicity Inc.
Management:
Tachihi Hospitality Management Co., Ltd.
(wholly owned subsidiary of Tachihi Holdings Co., Ltd.)
Head office location:#3 Tachihi Bldg., 6-1 Sakae-cho, Tachikawa, Tokyo
President and Representative Director: Masamichi Murayama
Director & COO: Hiroyuki Sakamoto
Executive Chef-Producer: Yoshinori Ishii
General Manager & Head Chef: Kenji Okawara
| | |
| --- | --- |
| [Inquiries] | Auberge TOKITO Pre-opening Office  |
| | TEL: 042-536-1111 (Main line) |