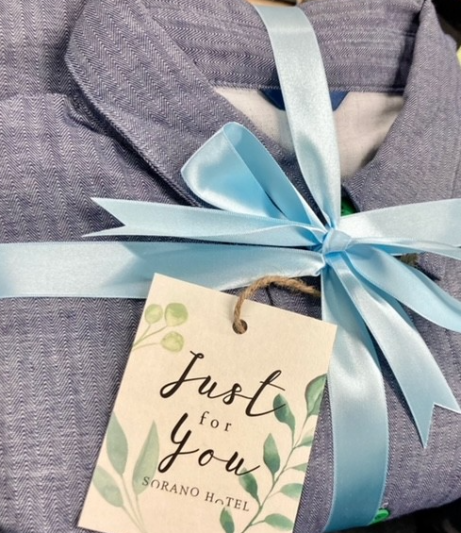 Our room wear is now available for purchase in response to popular demand.

We have received many positive reviews for the level of comfort that Sorano Hotel room wear offers as a guest room amenity.

Herringbone gauze made of 100% gauze fabric is soft and rests comfortably on your skin. The material has excellent moisture and water absorbency, which assists your body with temperature regulation. With a subdued, washed-out color scheme charmingly adorned with pink or green buttons, our room wear is just as easy on the eyes as it is to throw on.

Enjoy high quality comfort with our room wear that can also be worn as pajamas.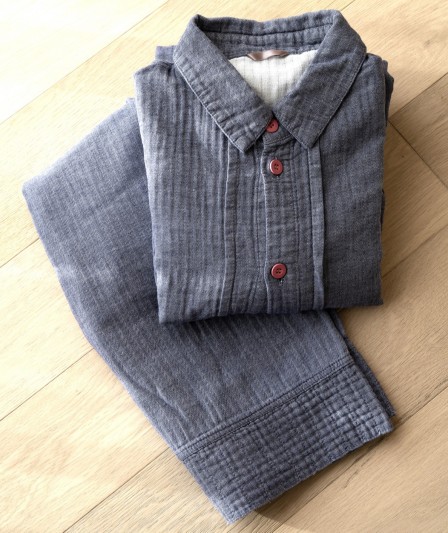 < Material >
100% cotton
Herringbone double gauze dyed navy blue

< Sizes > M or L
Length

width

sleeve

Outseam

waist

button color

M

75

cm

60

cm

55

cm

95

cm

110

cm

pink

L

80

cm

64

cm

58

cm

100

cm

120

cm

green
< Price >
 9,900 yen (tax inclusive) [Top and bottom, all sizes]

< Purchase location >
SORANO HOTEL 2nd floor lobby
*Although gift wrapping is not available, we can add ribbons for the presentation.
*Sizes cannot be mixed and matched for the top and bottom.
Other SORANO HOTEL Original Goods
Original SORANO reusable bags and caps are now on sale (880 yen each, tax inclusive) with excellent reviews.
SORANO Original Caps(three colors)
SORANO Original Eco Bags(two colors)