DAICHINO RESTAURANT's New Seasonal Menu "Autumn Flavors Kyoto Travels"

It's lovely autumn, but the world may not be quite ready for distant travels, so let our executive chef who hails from a long-established restaurant in Kyoto take you on a trip to the city of gastronomy through dining. Our dishes incorporating ingredients of Kyoto are presented with traditional Japanese culinary techniques with an innovative twist characteristic of the refreshing new flavors offered at Daichino Restaurant. Enjoy Kyoto travels filled with autumn flavors at the Sorano Hotel.
DAICHI Lunch Set - Kyo Sanpo (Kyoto Stroll) -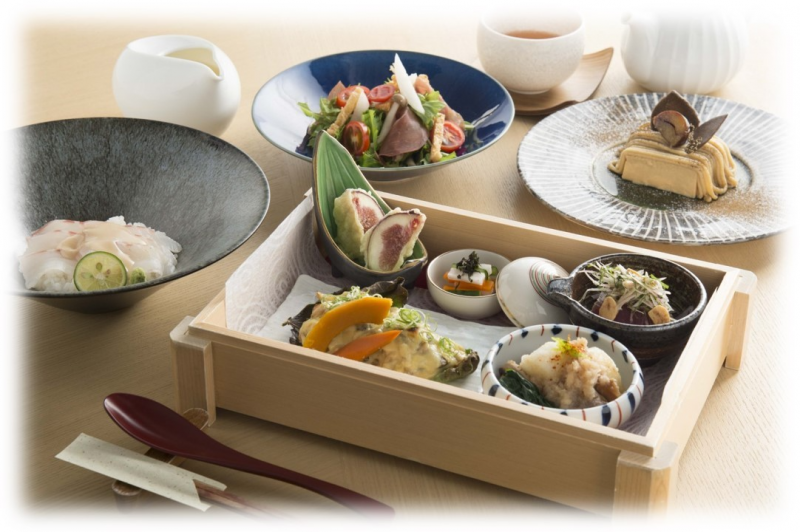 | | |
| --- | --- |
| Appetizer | Mizuna Potherb Salad with Prosciutto, Japanese Pear, Deep-fried Tofu |
| Boxed Assortment | Fried Nagaimo Yam with Beef and Mushroom Soy Glaze, Seared Returning Bonito |
| | Fresh Fig Tempura, Shingen Chicken and Mushroom Gratin flavored with Saikyo Miso |
| | Vinegared Persimmon and Vegetables dressed with Seasoned Seaweed |
| Rice | Red Sea Break Stock Over Rice with Sesame and Pickled Vegetables |
| Choice of Dessert  | Ice Cream with SORANO HOTEL Original Sake "Tachihi no Sora" Lees Flavor |
| | OR Japanese Jelly with Earl Grey Flavor |
| | OR Japanese Chestnut and Roasted Green Tea Mont Blanc Pudding |
| | OR Japanese Pear Sherbet with Soy Florentin |
| | |
Price: 5,500 yen (tax inclusive)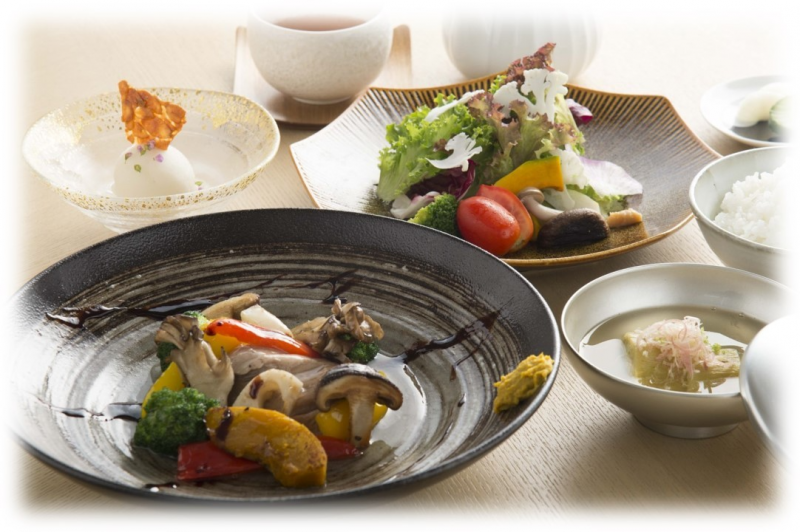 | | |
| --- | --- |
| Appetizer  | From the Vegetable Cellar—Fresh Vegetable Salad with Yuzu Citrus Dressing |
| Soup | Grilled Eggplant Soup |
| | *Option: Buttery Autumn Pike Conger Soup (for an additional 1,100 yen) |
| Choice of Main  | Chargrilled Shingen Chicken Thigh with Creamy Mushroom Sauce |
| | OR Stewed Yawaraton Pork Butt with Grilled Vegetables and Bonito Stock Glaze (pictured) |
| | OR Steamed Fish with Light and Savory Scallop and Clam Sauce |
| | *Option: Assorted Sashimi |
| | Chef's Recommendations – (for an additional 1,100 yen) |
| | Goto Beef Steak from Nasu (120g) with Grilled Vegetables (for an additional 2,420 yen) |
| Rice | Steamed SORANO Rice |
| | |
Price: From 3,080 yen (tax inclusive)
Our autumn selection is a delectable combination of fall flavors with ingredients of Kyoto, including Kyoaka jidori chicken, Daitokuji natto soybeans, Kyoimo taro, and Kujo green onion. Our rich assortment comes complete with 25 à la carte items and four desserts, excerpted below. Please click here for our detailed menu.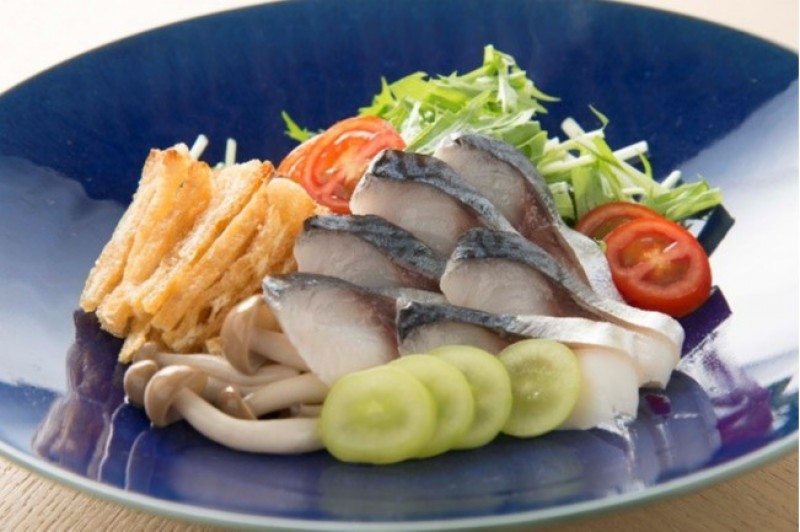 Seared White Wine Vinegar Mackerel with Kyoto Mizuna Potherb and Crispy Deep-fried Tofu
In Japanese cuisine, mackerel is commonly cured with vinegar made with rice or grain, but at DAICHINO RESTAURANT, we use wine vinegar to tone down the sweetness and enhance the crisp flavor. The garnish of muscat grapes and deep-fried tofu is also a refreshing complement to our shime-saba.
1,980 yen (tax inclusive)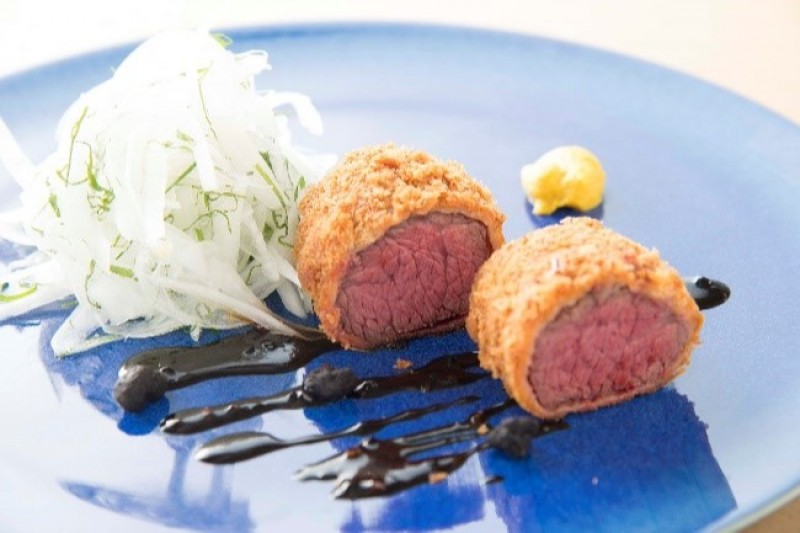 Nasu Goto Beef Fillet Cutlet with Gentle Daitokuji Natto Sauce
Daitokuji natto soybeans are made in front of the gates of Kyoto's Daitokuji Temple. Though delicious as is with the deep flavor and aroma of fermentation, here the natto is combined with fond de veau for a rich sauce inspired by Western cuisine.
3,300 yen (tax inclusive)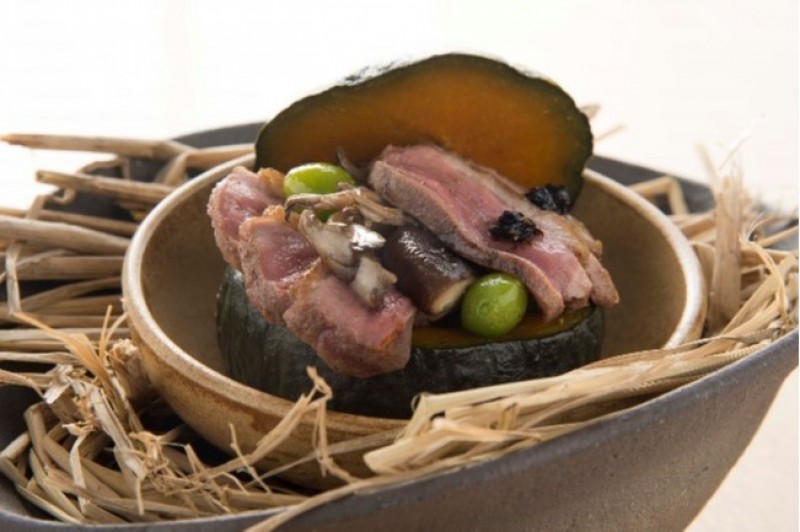 Sansho Pepper Fried Bushu Duck and Botchan Kabocha Squash Stuffed with Ginkgo and Mushroom
One whole kabocha squash is generously stuffed with autumn splendors—duck, ginkgo, and mushrooms—and comes with a gentle sauce of fig, Daitokuji natto soybeans, and balsamic vinegar. Dijon mustard spread on the inside of the bowl gives the superbly sweet pumpkin a refreshing tang.
3,850 yen (tax inclusive)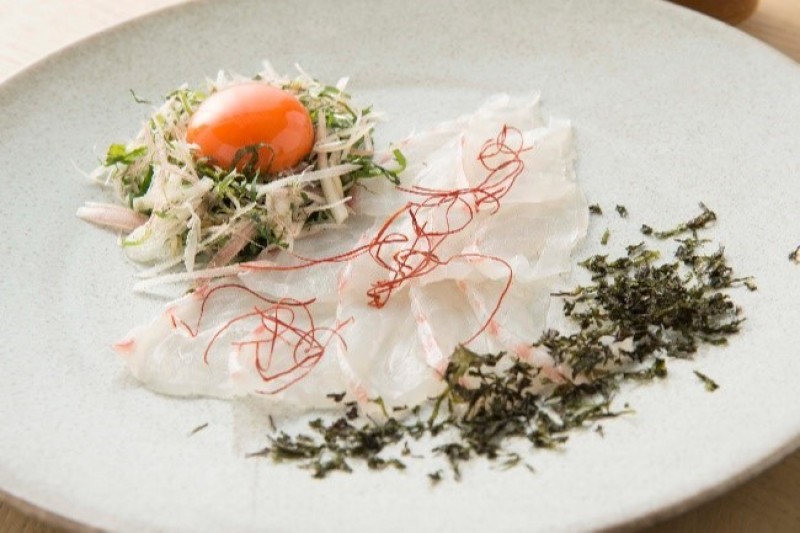 Red Sea Bream flavored with Kombu Kelp—
Enjoy with Sesame Soy Sauce and Egg Yolk
2,200 yen (tax inclusive)

Autumn sea bream seasoned with savory kelp meets spicy Korean-style sauce. Our recommendation: mix the egg yolk with the aromatic vegetables, wrap the mixture with a slice of sea bream, and enjoy.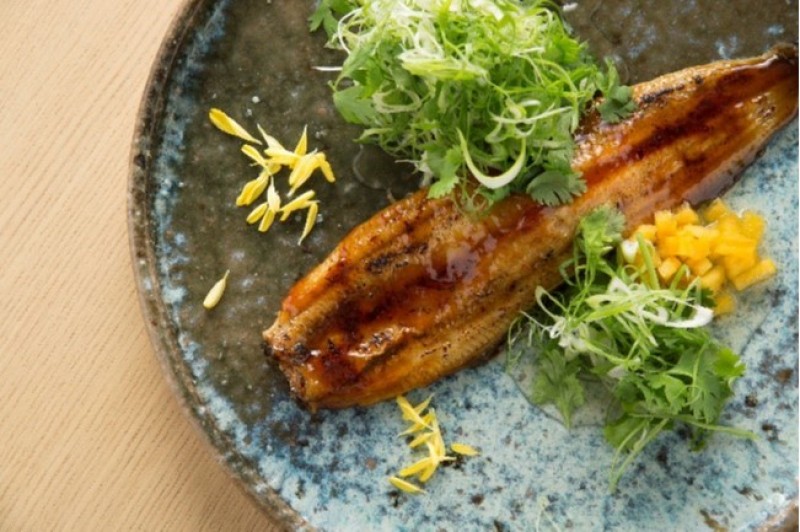 Braised Nasu Eel with Kujo Green Onion, Cilantro, Other Herbs, and Marinated Persimmon

5,940 yen (tax inclusive)

Eel that is steamed rather than grilled turns out extra plump and moist. Since the fat is also locked in, the refreshing flavors of Kujo green onion and cilantro go very well. Also enjoy the bed of sauteed burdock and marinated persimmon underneath.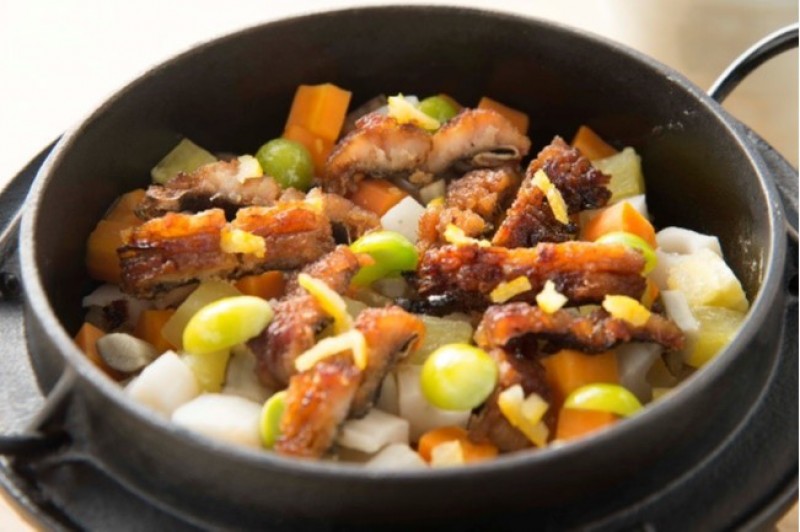 Buttery Autumn Pike Conger and Ginkgo, Rice Cooked with a Medley of Root Vegetables Scented with Yuzu Citrus

2,640 yen (tax inclusive)

Pike conger is famously eaten in the summer but in fact become buttery and delicious in the fall. The fish is cooked to fluffy perfection with ginkgo and autumn root vegetables in celebration of a good harvest. The medley of ingredients looks like fallen leaves blown to the roadside by the autumn breeze.

DAICHINO RESTAURANT Signature Dish Daichino Salad with Deep Autumn Hues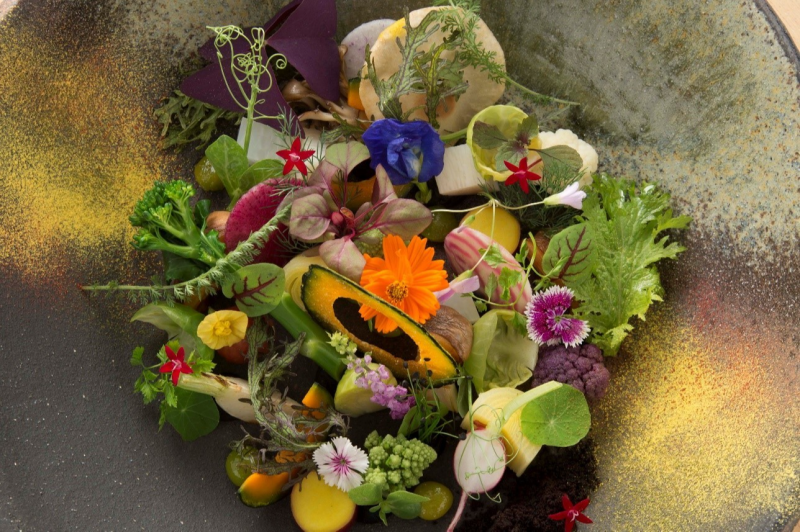 The world of 'wabi-sabi' Japanese aestheticism is present in the simple, rustic colors of autumn
and in our restaurant's signature Daichino Salad offering pleasure of sight and taste
as the rich flavors of fall are plated for a gratifying dining experience.
(For details about Daichino Salad, please see https://soranohotel.com/en/restaurant/daichi/)