Heralding the Start of Summer with Our Restaurant & Bar Menu
 Our restaurant & bar menu offers a cooling and vitalizing start to a new season. Enjoy a refreshing taste of southern Italy at our top floor SORANO ROOFTOP BAR. Beat the heat and stuffiness of summer with a café time dessert at our main dining hall, DAICHINO RESTAURANT.
1."Travel" to Southern Italy with Food Authentically flavored menus presented sensibly by our chef trained in southern Italy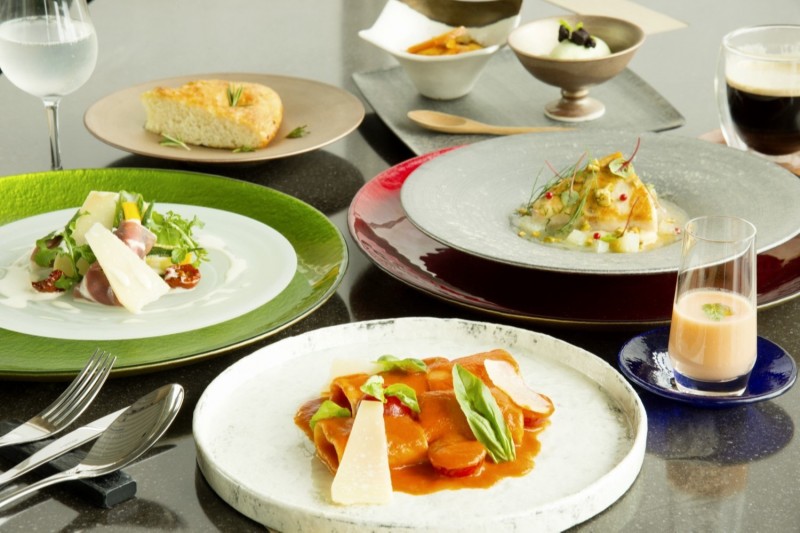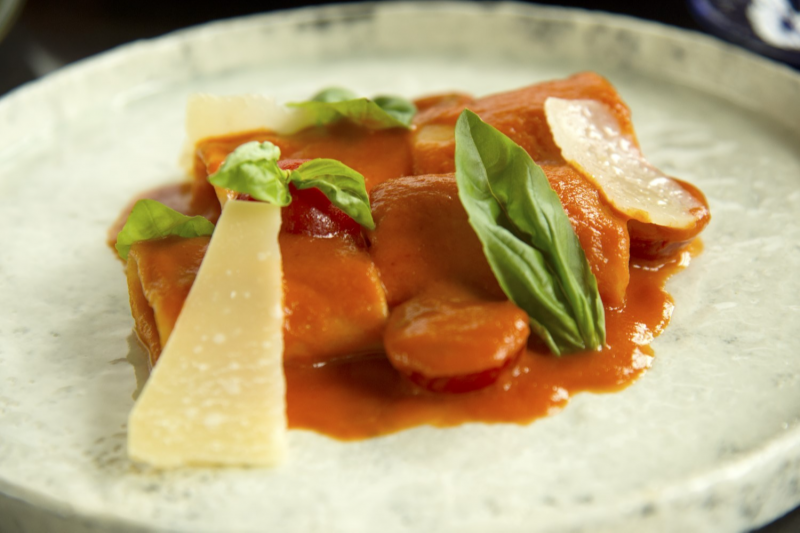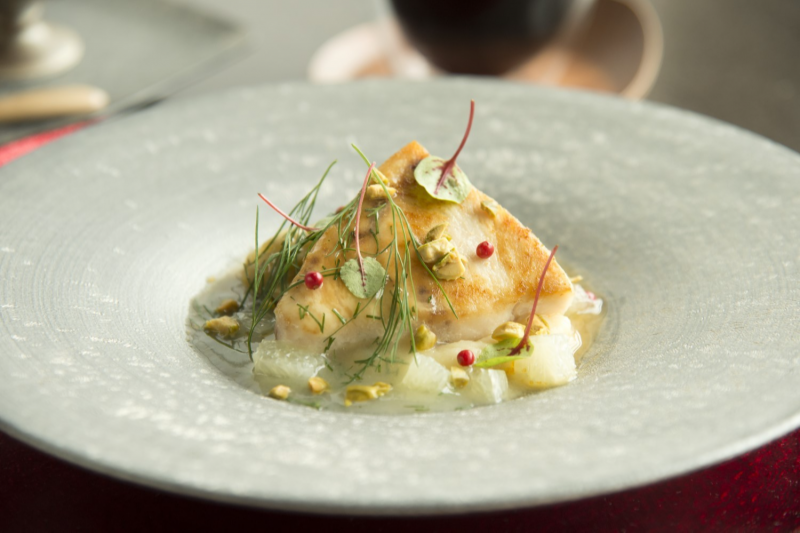 Newly added to our SORANO ROOFTOP BAR lunch menu is Festa Italiana!, our southern Italian lunch course presented by our chef who has culinary experience in Italy. Blessed with sunshine throughout the year, southern Italy abounds in vegetables, fruit, and seafood, and uses plenty of tomatoes and olive oil. As there are many refreshing dishes that draw out the traits of the ingredients, southern Italian food is perfect for this season. In these times when traveling overseas is close to impossible, let your dining experience give you a taste of travel.
~Festa Italiana!~
-Zuppa Fredda
Peach-scented gazpacho        
-Antipasto
Summer vegetable Prosciutto roll with semi-dried tomato
Chilled bagna cauda sauce flavored with anchovies
-Primo Piatto
Traditional southern Italian Paccheri with fresh tomato sauce
Parmigianno Reggiano and basil
-Handmade rosemary focaccia
-Secondo Piatto
Mediterranean seafood soup marinade of swordfish confit and grilled eggplant
Dill and grapefruit sauce with pistachios
-Dolce
Crispy crema catalana infused with cinnamon
Fresh mint ice cream with cocoa crumbles
*Menus and production sites may change depending on the availability of ingredients.
2. LGBTQ+ Pride Month, a worldwide celebration of sexual diversity
Presenting Pride Ice, the SORANO HOTEL's seasonal shaved ice to help raise awareness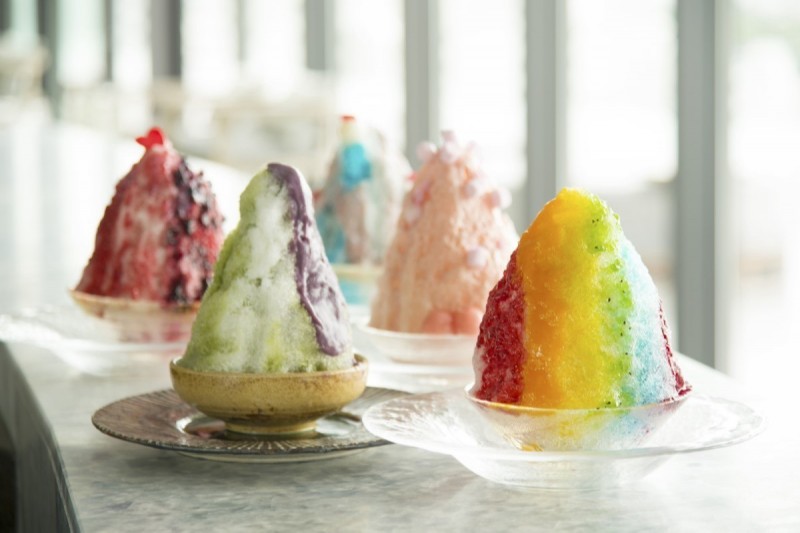 The Sorano Hotel's Pride Ice are colored with authentic fruit sauces that represent the rainbow flag color of LGBTQ+ as well as pride flag colors of each sexuality, including pink, purple, green, and red and are splendidly decorated with toppings. Two items will be offered until September 15, while three items will be alternated every three weeks starting on June 14.
Click here for the details about menu
BOOK A TABLE! SORANO ROOFTOP BAR
【Ended】 3. New Café Time Menu for Cooling Off at DAICHINO RESTAURANT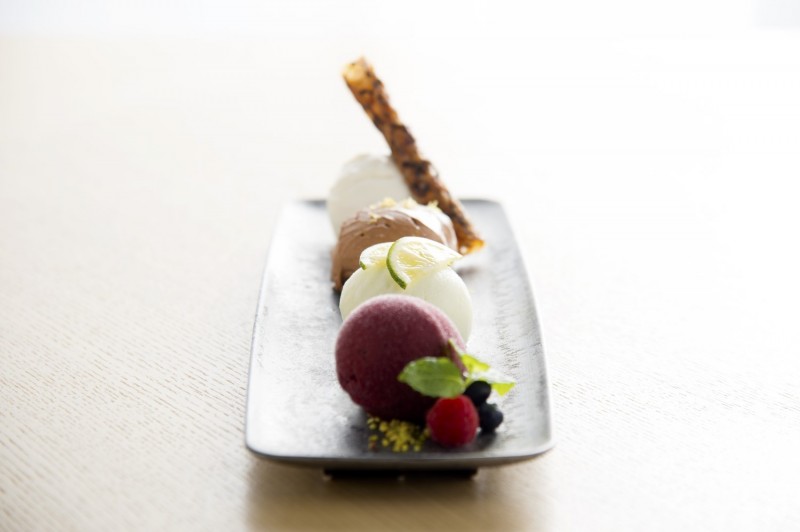 Our main dining DAICHINO RESTAURANT café time menu newly starting on June 14 offers a selection of desserts featuring Sayama Tea of Tokyo and Bakkan barley shochu of Hachijo Island. Also pair your desserts with our recommended drinks.
- Tokyo Sayama Tea and Hoji Tea Parfait & Tokyo Black Tea  

2,400 yen(Dessert only 2,000 yen)
- Wheat and Sudachi Anmitsu & Black Bean Green Rooibos Tea  

2,200 yen(Dessert only 1,800 yen)
- Taste Comparison of Four Types of Specially-made Sherbet and Ice Cream & Tokyo Sayama Tea   1

,900 yen(Dessert only 1,500 yen)
*We will not accept a reservation for tea time of DAICHINO RESATURANT.