A Taste of Spring and Early Summer with Our New Grand Menu Main Dining DAICHINO RESTAURANT
The essence of foods from various countries is crossed with Japanese cuisine in Japanese Crossover Food, the secret to the delicious flavors at DAICHINO RESTAURANT. We offer a dazzling array of foods using flavorsome vegetables and other seasonal ingredients in our à la carte menus, courses, and snacks to complement your drinks.
Savor the season with our à la carte menus
Ingredients taste exceptional, particularly in spring. White asparagus, bamboo shoots, cherry salmon, and the first bonito of the season – seasonal, high quality ingredients from across Japan fill our à la carte menu.
Our lineup consists of 39 items categorized under appetizers, seasonal dishes, sashimi, deep-fried foods, main dishes, rice, and dessert.
*Below are some of excerpts from the grand menu for your reference.
Know or don't know what to get? First things first – try our specialty!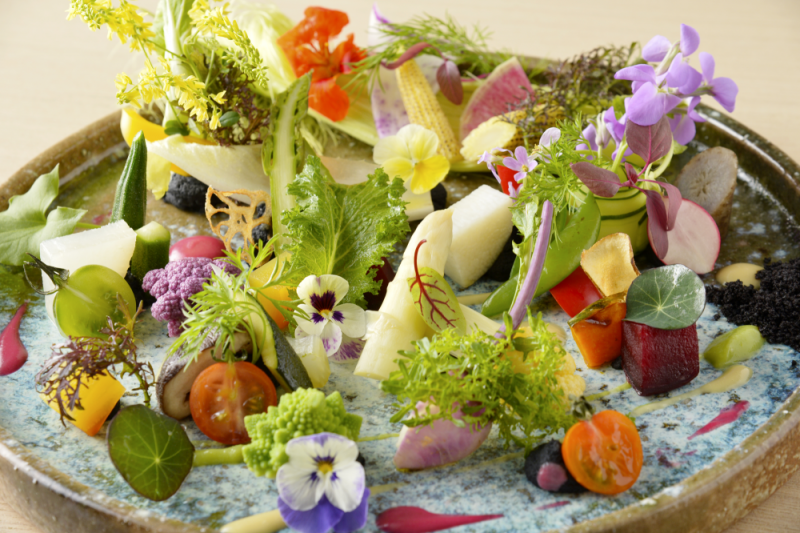 Our popular DAICHINO SALAD has already established itself as a signature dish at our restaurant. Over 30 varieties of herbs and vegetables are served with a savory Japanese dashi stock gelée. Have a new encounter with this enticing, beautifully presented salad featuring the bounties of the land. Serves 2 to 3; 3,500 yen

Appetizers to pair with your drink – 9 items
Let's start here. Delightfully sized portions are sure to please. Along with regular portions of nine menus items, we offer small, sensible portions that sake lovers will appreciate.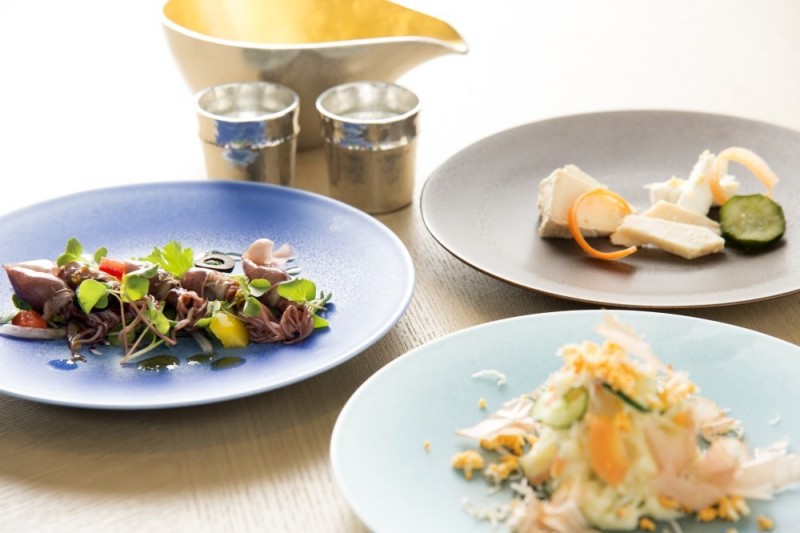 (Upper right) Bran-pickled cheese (two types) and vegetables using hotel original SORANO Rice bran
1,500 yen / Small portion 800 yen

(Lower right) Ripened potato salad with May Queen potatoes ripened over 700 days
1,100 yen / Small portion 600 yen

(Left) Firefly squid ceviche Firefly squid in season marinated with lime and soy sauce
1,500 yen / Small portion 800 yen
Spring Dishes for a taste of the season from across Japan – 4 items
A taste of spring delivered from our suppliers in various parts of Japan.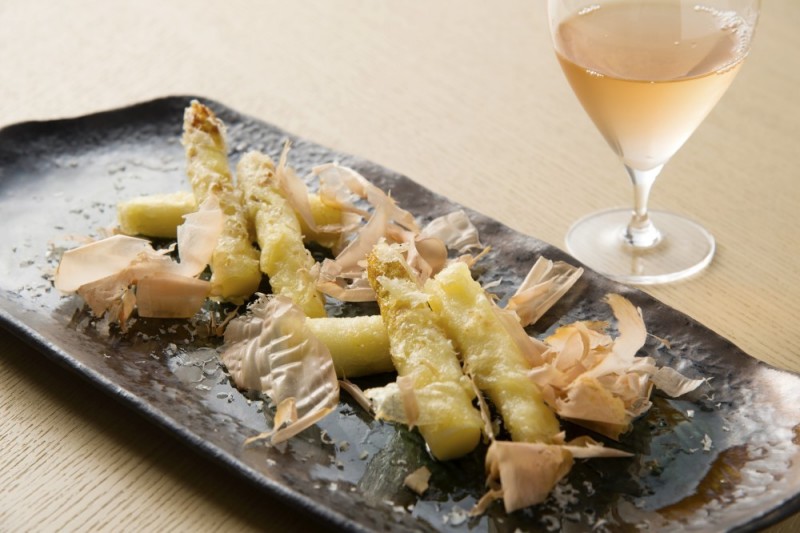 White asparagus tempura topped with freshly shaved bonito flakes and parmesan cheese
Asparagus grown in Japan boosted in flavor with savory bonito flakes and parmesan cheese
2,200 yen

Expertly prepared Sashimi – 6 items
Our chef's skills shine with sashimi. Seasonal seafood meets ingenuity as we offer sashimi in new style.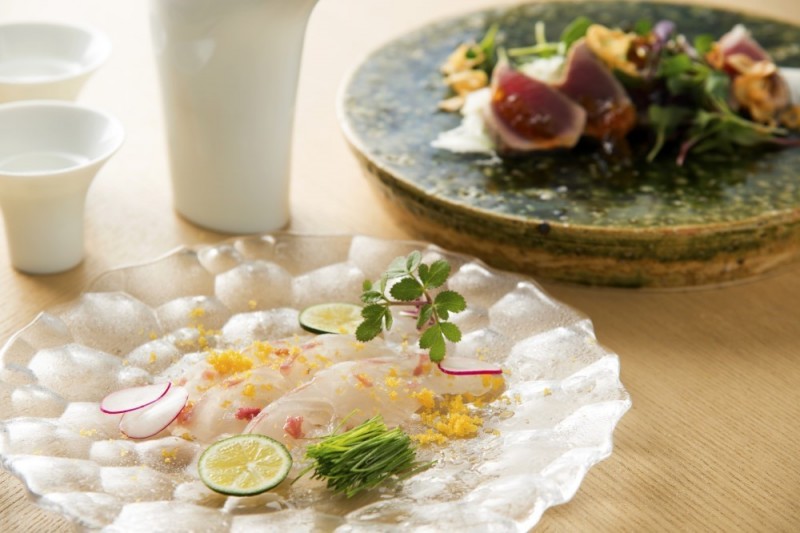 (Right) Seasonal bonito smoked with straw and served with herbs and Tosa vinegar gelée
First bonito of the year served with new crop onion and perilla and accented with garlic chips
2,000 yen

(Left) Sakura sea bream sashimi with homemade karasumi
Wrap karasumi salted mullet roe, green onion sprouts, and celery with sea bream scented with cherry blossom
1,800 yen

Main Dishes highlighting ingredients and technique – 6 items
Our main dishes featuring superb quality ingredients, such as wagyu beef sirloin, cherry salmon, pork fillet, and lamb, are cooked to perfection and served luxuriously with seasonal trimmings.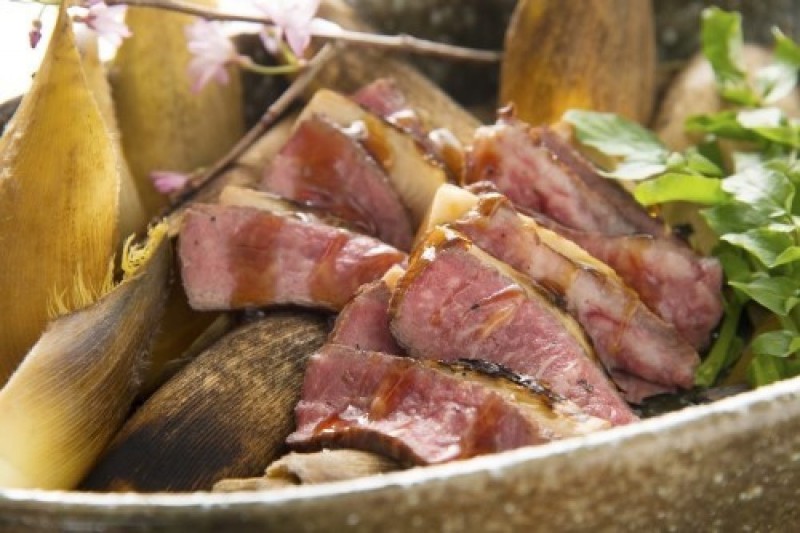 (Image) Grilled wagyu sirloin filled with bamboo shoot 6,000 yen
A dynamic heap of sirloin and bamboo shoot served with hatcho miso and madeira sauce, mustard rouille



Kinome pepper leaf yuan-style grilled cherry salmon and butterbur scape tempura 3,000 yen
Served with seasonal grilled firefly squid and komatsuna mustard spinach

Smoked, chargrilled lamb chop scented with butterbur scape 4,000 yen
Lamb in season slowly grilled over a charcoal flame and accented with butterbur scape
Rice and Noodles to satisfy your mind and body at the end of your meal – 4 items
Freshly cooked SORANO Rice with red miso soup and pickled vegetables 1,500 yen
As soon as your order is placed, we start cooking your rice – the hotel's original brand produced in Nasu. (About 2 gou of rice, 2 or 3 servings)

Nagasaki Goto udon with dipping soup and powdered seared yamame landlocked trout 1,500 yen
Udon from the Goto Islands is coated with camellia oil and matured to give it a uniquely firm and smooth texture.
There's always room for tempting Dessert – 4 items
White coconut mizu yokan jelly 900 yen
Gentle, delicate mizu yokan jelly enhanced by the sweet scent of coconut

Hojicha crème caramel of the good old days 1,000 yen
Our highly popular dessert – sweet, aromatic pudding for adults
Seasonal Course Menu – Spring – 10,000 yen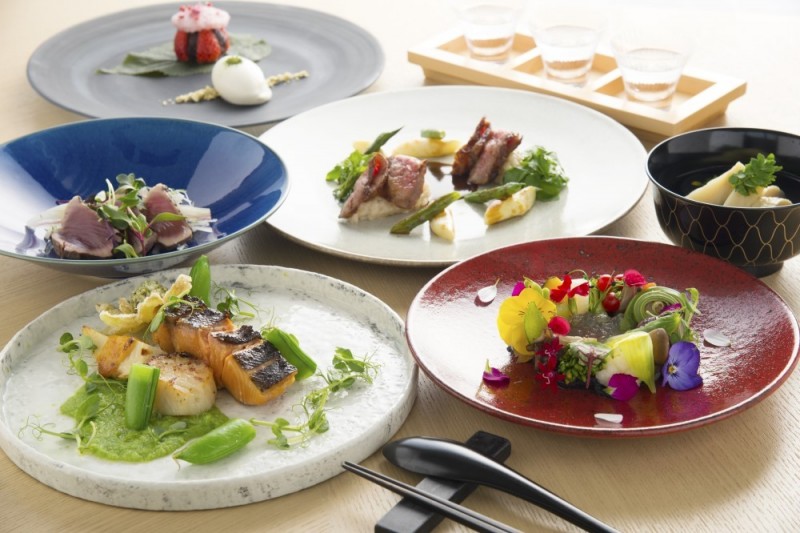 Spring soup featuring the first dashi stock
DAICHINO SALAD
Seasonal sashimi
Yuan-style grilled cherry salmon, bamboo topped with white miso glaze, butterbur scape tempura
Chargrilled wagyu beef sirloin and risotto scented with bonito stock
Specially made sakura mochi (cherry blossom rice cake) with sake lees ice cream


*Prices above include consumption tax.
Reservations and Inquiries:
DAICHINO RESTAURANT 050-3196-9027
*Please notify our staff at the time of your booking about any allergies or dietary restrictions.