In-room Dining Menus to enjoy with your drinks—delivery to guest rooms with wine, beer, and more
We present renewal menus for in-room dining — items for dinner or as appetizers to complement your drinks as well as a kids' plate. Enjoy your meal with recommendations by our sommelier.
In-room Dining Menus to Complement Your Drinks
Assorted Appetizers (5,940 yen tax inclusive)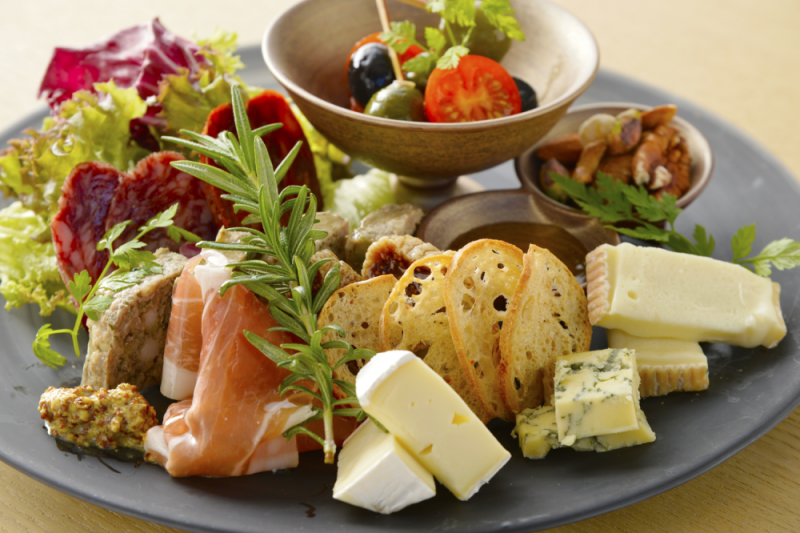 Our assorted Appetizers is perfect for wine and other drinks. Our chef recommends three kinds of a daily special cheeses . Enjoy it with baguettes or honey.

・Cheese,honey
・Prosciutto
・Pâté de campagne
・Salami
・Semi-dried fig
・Mixed nuts
・Baguettes
・Garlic sauteed olives,tomatoes
・Salad with vinaigrette dressing
Chef's Seasonal Sashimi Assortment (6,600 yen tax inclusive)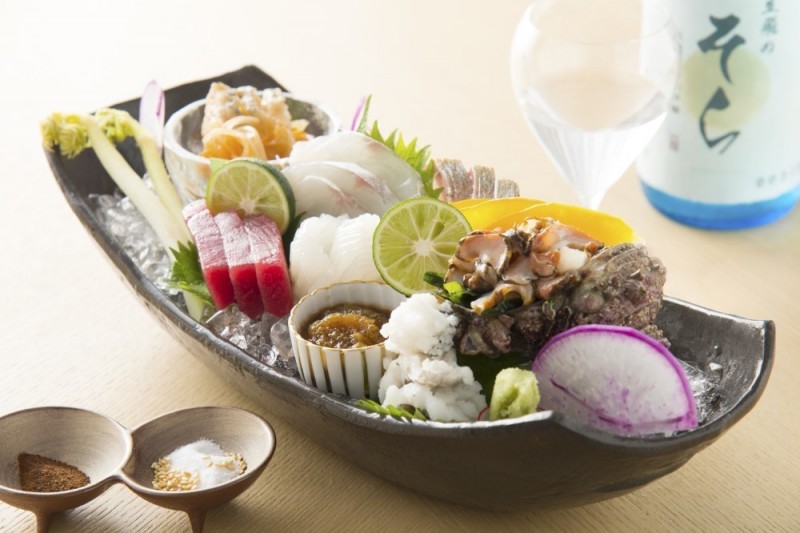 Recommendations of the day are beautifully presented by our chef. Savor the flavors of the ingredients enhanced by freeze-dried soy sauce, sesame salt, and citrus soy sauce.

・Pike conger
・Red meat fish
・White meat fish
・Blue-backed fish
・Squid
・Spiny top-shell
・Deep-fried white meat fish marinated in vinegar sauce
*Ingredients may vary depending on availability.
Kids' Set (2,970 yen tax inclusive)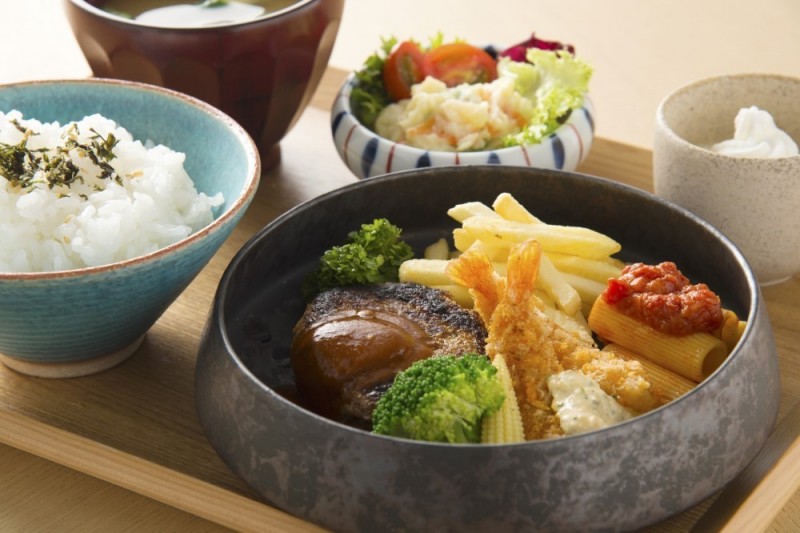 Fried breaded shrimp, hamburger steak, pasta, pudding, and other kids' favorites are included in this set.

・Kids' hamburger steak
・Fried breaded shrimp
・Tomato sauce pasta
・Cooked vegetables
・Potato salad
・SORANO Rice
・Homemade miso soup
・White pudding

Our Popular Menus for Casual In-room Dining
Our three menus available for delivery to your room are two types of rice bowls and our steak set. These flavor-rich menus feature hand-selected chicken, pork, or beef.
Shingen Chicken and Itou Poultry Farm Tamagokoro Egg Rice Bowl Set Meal (JPY2,970 tax included)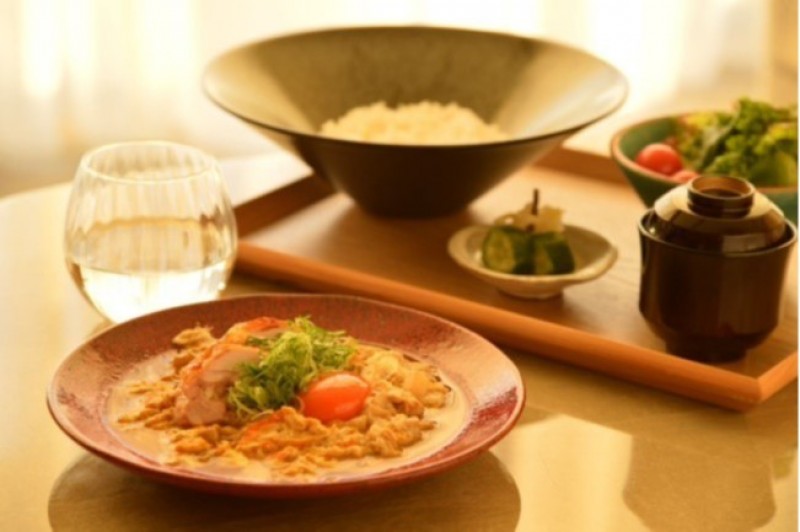 ・Chicken & egg rice bowl (The rice and toppings are delivered in separate containers.)
・Salad
・Red miso soup
・Pickled vegetables

The tenderness and juiciness of Yamanashi prefecture's Shingen Chicken is attributed to stress-free breeding in the bounteous natural environment endowed with the blessings of Mount Fuji and the Southern Japanese Alps. This mouthwatering Shingen Chicken is served with the uncooked yolk of local Itou Poultry Farm Tamagokoro egg whose vibrant orange color and rich, pleasant taste enhance this dish.
Nasu Goto Beef Steak Set Meal (JPY5,940 tax included)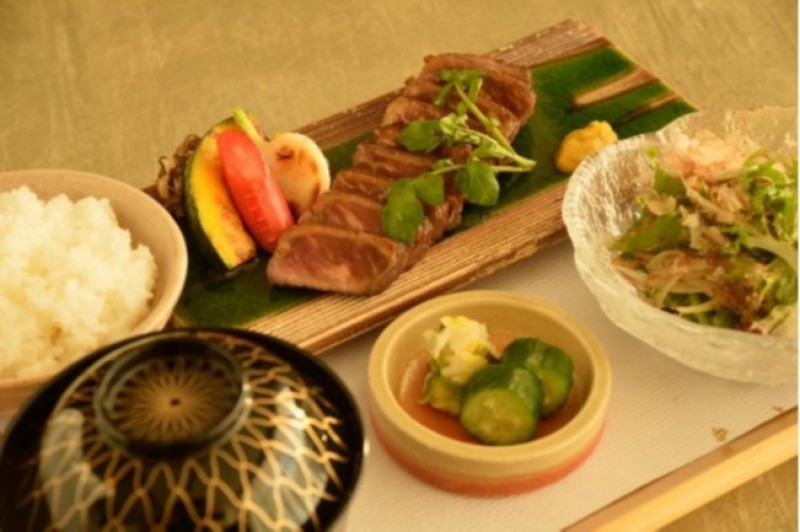 ・Steak 120 g
・Japanese-style onion salad
・SORANO Rice
・Red miso soup
・Pickled vegetables

Specially selected Goto Beef produced by Mr. Goto is chargrilled medium rare and dressed with a house specialty sauce. The set meal includes Japanese-style onion salad that complements and enhances the flavor of this sirloin steak perfect for meat lovers.

The Shimodas' Ginger Fried Pork Loin Rice Bowl Set Meal (JPY3,630 tax included)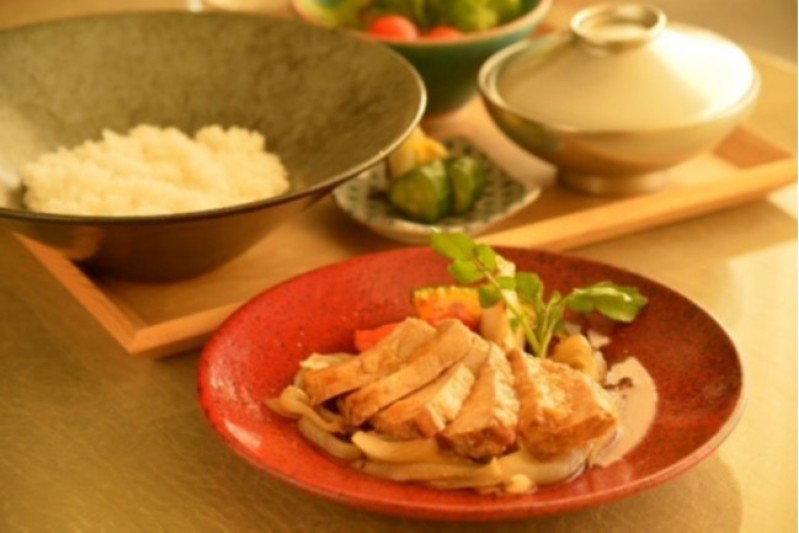 ・Ginger fried pork rice bowl
・Red miso soup
・Pickled vegetables
・Sala

A fulfilling cut of local Tachikawa brand Yawaraton pork loin steak is used in this hearty ginger fried pork. Despite the thickness, the pork is tender and juicy, cooked to perfection sous vide for ten hours and dressed with a special ginger soy sauce.

Place your order by phone (dial 9 from your room) or at check-in.
In-room dining delivery times: 6:00 p.m. to 8:30 p.m. (LO 8:00 p.m.)